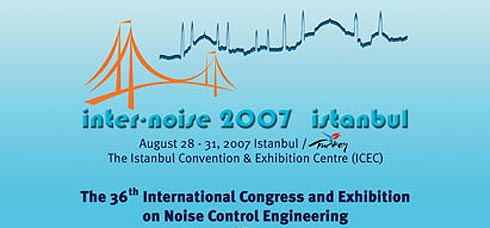 The 36th International Congress and Exposition on Noise Control Engineering, sponsored by the International Institute of Noise Control Engineering (I-INCE) and organized by the Turkish Acoustical Society, will be held at the Istanbul Convention & Exhibit ion Centre (ICEC) from August 28 through August 31 2007.
The conference will be attracting high quality research work from all the countries around the world and likely to produce valuable information on the global noise policies. Key note speakers will present valuable information on interesting areas of noise control engineering.
The main theme of the conference will be "Global Approaches to Noise Control". It is hoped that the main theme of the congress will contribute to achieve a quieter planet.
Global Noise Policy Workshop
A fifth Global Noise Policy Workshop will be held during Inter - Noise 2007 in Istanbul, Turkey, on Wednesday, August 29. The theme of this workshop is "Public Pressure-an Effective Force". The all-day workshop will feature sessions with presentations by informed parties from countries around the world, and each session will be followed by a question-and-answer discussion period.
Panelists will speak on the effectiveness of public pressure to influence legislators to enact noise control policy. The topics to be addressed during the three sessions will include the following: generating public involvement through education, support from NGO interest groups, and effective use of the media.
Environmental Noise Policies in Developing Countries Workshop at Inter Noise
Workshop is being organized by Dieter Schwela of Sweden and has two objectives:
- To present policies of noise management in some developing countries: Brazil, China, Egypt, India, Mexico, Nigeria, Pakistan
- To discuss opportunities to implement a global noise policy in developing countries Action
Seven speakers from Brazil, China, Egypt, India, Mexico, Nigeria, Pakistan will present noise policies and action plans for noise abatement in their countries. The presentations will cover the measures to control environmental noise. Environmental noise is to be understood as synonym for community noise as defined in the WHO "Guidelines for Community Noise".
Programme
27 August 2007
08:30 - 12:00
Congress Selection Committee Meeting (Members and invitees), Dolmabahce A
12:00 - 13:00
Board Lunch (Members only), Borsa Restaurant
13:00 - 18:00
I-INCE Board of Directors Meeting (Members only), Dolmabahce A
19:00 - 21:00
Board Dinner (Members only), LOFT
28 August 2007
08:30 - 16:00
Short Courses 1 - 2, Sultan 1 & 3
08:00 - 18:30
Registration, ICEC Main Entrance
09:00 - 12:00
Technical Study Group 3-6-7 Meetings, Levent 2 - 3 - 4
13:00 - 15:30
General Assembly, Marmara
16:00 - 17:30
Opening Ceremony and Distinguished Lecture 1, Anadolu Auditorium
17:30 - 18:30
Opening Reception of the Congress and Exhibition, ICEC
19:30 - 21:30
Chairperson's Dinner (By invitation only), Hilton Altinkubbe
28 August 2007
08:30 - 09:30
Distinguished Lecture 2, Anadolu Auditorium
08:00 - 18:30
Registration, ICEC Main Entrance
09:30 - 10:00
Coffee Break, ICEC
09:30 - 10:00
Noise Policy Workshop 1, Sultan 1
10:00 - 12:00
M1 Paper Presentations and Poster Session 1, ICEC Halls
12:00 - 13:00
Technical Divisions 1, 2 and 3, Levent 2-3-4
12:00 - 13:00
Lunch Break, ICEC
13:00 - 16:00
Noise Policy Workshop 2, Sultan 1
13:00 - 16:00
N1 Paper Presentations and Poster Session 1, ICEC Halls
16:00 - 16:20
Coffee Break, ICEC
16:20 - 18:00
Noise Policy Workshop 3, Sultan 1
16:20 - 18:00
AN1 Paper Presentations, ICEC Halls
19:00 - 22:30
Dinner Cruise on the Bosphorus - "A Summer Night's Dream", Departure from ICEC Enterance
30 August 2007
08:30 - 09:30
Distinguished Lecture 3, Anadolu Auditorium
09:30 - 10:00
Coffee Break, ICEC
08:00 - 18:30
Registration, ICEC Main Entrance
10:00 - 12:00
Noise Policies in Developing Countries Workshop 1, Sultan 1
10:00 - 12:00
M2 Paper Presentations and Poster Session 2, ICEC Halls
12:00 - 13:00
Technical Divisions 4 and 5, Levent 2-3
12:00 - 13:00
Lunch Break, ICEC
12:00 - 13:00
Next Congress Planning Meeting (Open to all interested participants), Dolmabahce A
13:00 - 16:00
Noise Policies in Developing Countries Workshop 2, Sultan 1
13:00 - 16:00
N2 Paper Presentations and Poster Session 2, ICEC Halls
16:00 - 16:20
Coffee Break, ICEC
16:20 - 18:00
Noise Policies in Developing Countries Workshop 3, Sultan 1
16:20 - 18:00
AN2 Paper Presentations, ICEC Halls
19:00 - 21:30
Banquet Dinner, Departure from ICEC Enterance
31 August 2007
08:30 - 09:30
Distinguished Lecture 4, Anadolu Auditorium
09:30 - 10:00
Coffee Break, ICEC
08:00 - 12:00
Registration, ICEC Main Entrance
10:00 - 12:00
Noise Policies in Developing Countries Workshop 4, Sultan 1
10:00 - 12:00
M3 Paper Presentations, ICEC
12:00 - 13:00
Lunch Break, ICEC Halls
13:00 - 16:00
N3 Paper Presentations, Anadolu Auditorium
16:15 - 17:00
Closing Ceremony, Anadolu Auditorium
17:00 - 18:00
Farewell Reception by Inter - Noise 2008 Host Country China, ICEC Halls
18:00 - 20:00
I - INCE Board of Directors Meeting (Members only), Levent 1
20:00 - 21:30
Farewell Dinner to I-INCE Board of Directors (Members only), Feriye Restaurant
Organizing Committee
President:
H. Temel Belek
Vice – President:
Zerhan Yuksel
Secretary General:
Ahmet Guney
Scientific Program:
H. Nevzat Ozguven, Mujgan Serefhanoglu Sozen, Sevtap Yilmaz Demirkale, Enver Sadikoglu, Nese Yugruk Akdag
Publications:
Haluk Erol
Treasurer & Finance:
Ahmet Erol
Sponsorship Committee:
Tuncer Toprak
Scientific Exhibition:
Ahmet Arisoy
Technical Visits:
Baki Karaboce
Social Program:
Sinan Karakaş
Public Relations:
Mustafa Kartopu