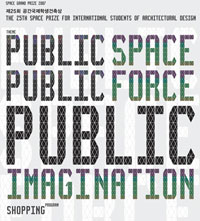 Space Prize for International Students of Architecture Design' has encouraged architecture students in creative architecture designs, while providing them with an arena for productive exchanges among them. In short, the prize has served to cultivate the soil for future architecture in Korea, Before it, the 'Space Prize' had celebrated excellent art and music works, and beginning from 1983, it was expanded to cover the discipline of architecture design.
Theme
Public Space, Public Force, Public Imagination
Program
Shopping
Jury
Raoul Bunschoten_Founding Director of CHORA, Architecture and Urbanism
Park Youn-shim_President of Jangwon Arcadia & Architects Associates
Eligibility
Students (a team may consist of up to 3 students)
Awards
Grand Prize (1): 5.000.000 won
Best Prize (1): 2.000.000 won
Excellent Prize (3): each 1.000.000 won
Many Selected Works: One year Free Subscription to Monthly Magazine Space
The Grand Prize winner will be given an opportunity to been employed by SPACE GROUP while other winners be an assessment premium for employment by our group.
Schedule
Due date of Application Acceptance: August 31st, 2007
Due date of Submission of Works: September 12th, 2007
Your work should be arrived by the deadline. Those arriving later than the deadline will be dismissed.
Preliminary Judging: September 19th, 2007 (including up to selective works)
Final Judging and Award Ceremony: October 5th, 2007 (Open Presentation)
Exhibition: October 8th to 12th, 2007