Yarışma Sonuçları
10 Winners
Matthew Francke, Katya Hristova
East Boston, Massachusetts – United States
"Mobile Emergency Relief Ports (M.E.R.P.s)"
David Hill, Laura Garofalo, Nelson Tang, Henry Newell, Megan Casanega
Raleigh, North Carolina – United States
"Threading Water"
Carsten Laursen, Other Team Member: Morten Norup Fassov
Copenhagen -- Denmark
Murphy Burnham & Buttrick Architects LLP, Mary Burnham, Jeffrey Murphy, Joseph Lengeling, Jason Hill, Seung Yup
Baek, Youngjoo Kahng
New York, New York – United States
"Community Provisional Residence (CPR)"
Jay Lim, Erick Gregory, Christopher Reynolds
Toronto, Ontario – Canada
"S.C.A.F.FOLD"
Darrell Mayer, Elizabeth Kolepp-Mayer
Raleigh, North Carolina – United States
"Container Living Apparatus (CLA)"
Otto Ruano, Robert Wrazen, David Mans
Brooklyn, New York – United States
"SCALE: Sustainable Contemporary Adaptable Living Environment"
Joao Sequeira, Ana Figueiredo, Marta Moreira, Pedro Ferreira
Lisbon -- Portugal
Michael Tom, Adam Alter
Brooklyn, New York – United States
James Vira, Jason Cadorette, Dominic Cullen, Ethan Cotton, Lanson Cosh
New York, New York – United States
"Rapidly Deployable inflatable Containers (RDIC)"
Honorable Mentions
Kili Akua
Halifax, Nova Scotia – Canada
"PLUG"
Carlos Azolas, Adrienne Enfield
Brooklyn, New York – United States
Frederico Celoni, Stefano Landi
Viterbo – Italy
Traian Cimpeanu, Magnus Nirin, Gabriella Johansson
Goteborg – Sweden
David Gagliano
New York, New York – United States
"Containerized Disaster Relief"
Dimitrios Gourdoukis
Clayton, Missouri – United States
Sayem Khan, Eric Vencer
Boston, Massachusetts – United States
"Vertical Village"
Kirsten Olson, Christine Novoselich
Ann Arbor, Michigan – United States
Laurent Troost
Brussels – Belgium
Francis Zarate
San Antonio, Texas – United States
Yarışma Bilgileri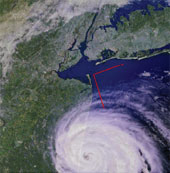 New York City is seeking innovative ideas for providing Provisional Housing for residents who may lose their homes as the result of a catastrophic coastal storm.
Because of the city's high population density and the desire to resettle as many residents as possible in their former neighborhoods, a new paradigm is sought to supplement existing temporary housing programs. Such existing programs typically rely on the deployment of single-household manufactured homes or trailers. Successful proposals will provide living spaces at a density level significantly higher than what is now conventionally provided in temporary structures.
The temporary housing that is the focal point of this Competition is called provisional in the sense that it is intended only as an interim step until a permanent solution is achieved. When residents return to live in Provisional Housing in their previous surroundings, they can be active participants in the City's long-established planning process that will determine the permanent reconstruction of their communities.
Eligilibility

This is an Open Competition subject to the following restrictions:
- No purchase is necessary to apply for an Award under this Competition. This Competition is void where prohibited by Law.
- Competitors must be 18 years or older.
- Only one Registration Form may be submitted per person for the duration of the Competition.
- Team work is encouraged. A Competitor that wishes to work with a team must list his or her team members in the space provided on the Registration Form. Team members cannot register separately as individual Competitors and will not be recognized as Competitors.
- Awards are non-assignable and non-transferable. Any Awards issued by the Sponsor shall be to a registered Competitor only.
- There is no fee to register. Competitors remain anonymous until the Jury has made its selections.
- Jury Members, members of the Technical Advisory Committee, employees of the Sponsor, and their family members are prohibited from entering the Competition.
- Competitors that submit incomplete Registration Forms are not eligible to compete.
Jury Chair
David J. Burney, AIA, Commissioner, NYC Dept. of Design & Construction (DDC)
Jury Members
1.
Joseph F. Bruno, Commissioner, NYC Office of Emergency Management (OEM)
2.
Paul Freitag, Development Studio Director & Senior Project Manager, Jonathan Rose Companies, LLC
3.
Mary Miss, Artist
4.
Guy Nordenson, Principal, Guy Nordenson & Associates, Structural Engineers LLP
5.
Enrique Norten, Architect, TEN Arquitectos
6.
Richard Plunz, Professor, Columbia University Graduate School of Architecture, Planning, and Preservation
Judging Criteria
The Jury will favor designs that demonstrate the following qualities:
- Density:
Maximize number of housing units per land area
- Rapid Deployment:
Provide units ready to be occupied as soon as possible
- Site Flexibility:
Maximize the ability to accommodate as many different sites as possible
- Unit Flexibility:
Maximize the ability to accommodate as many variable household types and sizes as possible
- Reusability:
Maximize the potential for reuse of the structures either for future disasters or other purposes
- Livability:
Maximize the strength, utility, convenience, and comfort of the dwellings
- Accessibility:
Allow access for people who have limited mobility
- Security:
Make public space defensible and help people feel safe
- Sustainability:
Reduce energy costs and the carbon footprint of the dwellings
- Identity:
Maximize the ability of New Yorkers to feel a sense of identity and even pride in where they live
- Cost Efficiency:
Maximize the best value for investment
Award

10.000 Dollars given to selected Open Competition Winners or 500 Dollars given for Honorable Mentions.
Open Competition
27 September 2007
Competition announced, website launched.
15 October 2007
Registration opens.
23 November 2007
Registration closes and Submission Period begins.
14 December 2007
Submissions due at 17:00 EST (22:00 GMT). Submissions not uploaded or postmarked by this date cannot be considered.
Early January 2008
Jury selects ten Winning Submissions and ten Honorable Mentions.
15 January 2008
Winning Submissions and Honorable Mentions announced.
Project Development Period
01 February 2008
Winners receive comments from Jury and Technical Advisory Panel.
15 May 2008
Developed Designs released.