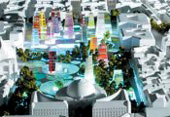 Matthijs Bouw (1967) studied at the TU in Delft. While still studying he was involved in teaching and wrote for various magazines (including De Architect and Wiederhall).
In 1995 he set up the architectural office One Architecture, which is involved in a wide range of projects, from designing private houses to organizing the Atelier Deltametropool for VROM.
In its early days, One Architecture was concerned primarily with exploring the boundaries of architecture by means of conceptual projects and by publishing numerous articles about architecture and architectural theory. Following a partnership with co-founder Joost Meuwissen and Donald van Dansik, since 2005 Bouw has run One Architecture single-handed. In recent years, One Architecture has focussed increasingly on practice by integrating design and process. The office advocates an integrated design approach and almost always works together with other offices and external experts, such as the engineering firm Arup and the artist Berend Strik. One Architecture has taken part in various competitions including - recently - that for Les Halles in Paris (together with OMA, XDGA). Other projects include: children's day care centre 'Het Kasteel' (designed when still a student, together with four friends), Villa Bollen in Bakel, football stadium Wankdorf, Hotel Pro Forma, APM Stations Schiphol and urban design schemes for Deventer, Dordrecht, Eindhoven and Tbilisi (Georgia).
In addition to his work as director of One Architecture, Matthijs Bouw teaches at various educational institutes, such as the Architecture Academies in Amsterdam and Rotterdam, the TU in Delft, and institutes in Graz and Los Angeles. He holds the chair of buildings theory and principles of design at the RWTH in Aachen. Bouw publishes and lectures on a range of subjects throughout the world. He is currently working on the publication How to be an Architect in North Pacific America or Anywhere Around the World. A volume was recently devoted to One Architecture in the DD Design series.