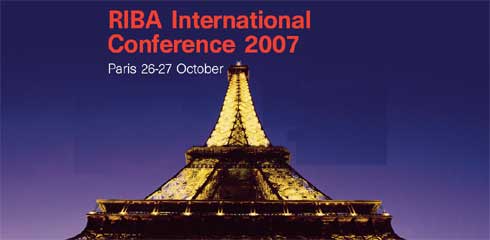 The world's leading architects, engineers and artists, will be participating in the Royal Institute of British Architects' (RIBA) annual conference in Paris. Entitled "Entente Cordiale", the event will take place on 26 - 27 October 2007 at Oscar Niemeyer''s headquarters of the French Communist Party - a building rarely opened to the public and the architect''s favourite European project.
The conference will explore the concept of "collaboration" - between architects on major projects; between architects internationally; between architects and other members of the consultancy team; and between architects and artists.
Confirmed speakers include architects Jean Nouvel, Rafael Vinoly, Will Alsop, Odile Decq, Mike Davies, Roisin Henegen, Spencer de Grey, Ellen van Loon (OMA), Sunand Prasad; and artist Bruce McLean. Other names will be announced shortly. Oscar Niemeyer, who will be 100 in December 2007, will address the conference via video.
A programme of special architectural study tours to important buildings in and around Paris has been arranged for delegates. There will also be a series of exclusive evening receptions at some of the city's most architectural venues including the newly - opened Cité de l''Architecture.
Programme
25 October 2007
During the late afternoon there are a number of special architectural tours planned.
At approximately 19:00 there will be a welcome reception at the Cite de l'Architecture & du Patrimonie. Europe's largest new Architecture Centre is spectacular. Delegates will enjoy a rooftop reception, then tours of the huge historic and contemporary architecture galleries. This event is hosted by Buro Happold.
26 October 2007
09:00
Registration at the Oscar Niemeyer designed Headquarters of the French Communist party

09:30
Video welcome from Oscar Niemeyer, who is 100 this year

09:35
Welcome from Sunand Prasad, RIBA President

09:45
Keynote Address: Jean Nouvel

10:20
Collaborating with Architects on International Projects: Spencer de Grey from Foster + Partners in conversation with Jean Nouvel on their joint venture company set up to build at Wallbrook Square in London.

11:00
Coffee

11:30
Keynote Speaker: Rafael Vinoly

12:10
Collaborating on Europe's Biggest Construction Project: Mike Davies of Rogers Stirk Harbour + Partners and Andrew Wolstenholme, the T5 Project Director at BAA.

12:45
Building Information Modelling: Nick Terry of BDP will talk on how BIM can reduce costs, boost quality, increase revenues and improve the service to the client

13:15
Lunch on lower ground floor
14:30
Collaborating with Engineers: Roisin Henegen from Henegen Peng Architects and Tony McLaughin from Buro Happold on the Cairo Museum project
Friday evening
Evening reception, sponsored by Corus, at the Pompidou, where Richard Roger's exhibition will open in November. Mike Davies will host a talk about the building.
27 October 2007
10:00
Keynote Address: Ellen van Loon, partner OMA

10:45
Collaborating with Artists: Will Alsop and Bruce McLean

11:20
Coffee

11:45
Collaboration and the Ego: How Collaborative Projects work in the Film Industry: Duncan Kenworthy OBE, film
producer and chair of BAFTA, will talk about how collaborating on making films compares with collaboration in architecture and what lessons the construction industry might learn.

12:10
Keynote Speaker: Odile Decq, partner ODBC

12:45
Sunand Prasad: Conclusions and round-up speech

13:15
Lunch on lower ground floor
29 October 2007
A number of architectural tours by coach are planned or delegates can explore the area on their own.