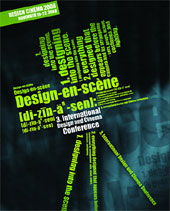 This interdisciplinary conference is the third of a series which started in 2003, on design and cinema. The first meeting, Design in Wonderland (2003) was a national conference, followed by an international one with the theme of Form Follows Film (2005). The selected and rewritten works of both were later published as a book with a supplementary DVD, named after the second meeting, by Cambridge Scholars Press of London, in 2006. The book emphasized those representative forms that interlace the fields of design and cinema.
Theme
Third International Design and Cinema Conference (Design Cinema 2008) will be held on November 19 - 22, 2008 in Istanbul, Turkey. The meeting, themed as design-en-scène, is organized with the intention that scholars and practitioners will come together for interrogating the role and kinds of designed environments and their production that expand our experiences. We seek to bring to the front through this conference one of the ongoing discussions, in terms of potentials originating from designcinema relations: representation and realization of the designed setting with reference to theory, tools, and practices. The topics fall under three categories:
- Real
- Designing of objects and environments
- Experience of designed objects and environments
- Hyper-real
- Manipulation of the real
- Blurring of the real
- Virtual
- Creation of a parallel universe
- Implementation
- Hybrid existences

Call For Works
Since both design and cinema disciplines have physical outcomes, Design Cinema 2008 would like to bring practices, researches and creative outputs together under the "works exhibition" and create a rich and provoking platform during the conference.
The Conference is open to all artists, designers, scientists, professionals, amateurs and students around the world working in various categories to share their works.
Important Dates
30 January 2008
2nd Announcement of Call for Works
30 June 2008
Deadline for works
30 July 2008
Notification of accepted works
30 September 2008
Submission of final works
30 October 2008
Deadline for Registration
19 - 22 November
2008 Conference