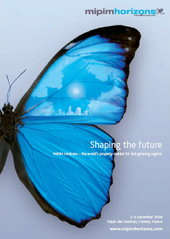 MIPIM Horizons is a unique annual meeting for top decision-makers allowing real estate professionals and investors to connect and gain insights into high-potential property markets in Europe, the Middle East, Africa and Latin America. MIPIM Horizons provides institutional investors, regional developers, property owners, brokers and local authorities an unparalleled opportunity to obtain a full overview of innovative developments in fast-growing markets.
By attending MIPIM Horizons, delegates will be able to:
- Establish a presence in fast-growing markets
MIPIM Horizons is designed to educate you about new investment opportunities in untapped markets. At the exhibition, conferences and summit, international investors will be given pertinent information about where, when and how to invest in fast-growing regions.
- Choose from a variety of high ROI opportunities
At MIPIM Horizons, international investors and regional developers meet together and negotiate financing for real estate operations with high ROI potential. Whether your interest is in office buildings, residential, commercial, hotel or tourism-related property, MIPIM Horizons guarantees access to a wide range of development possibilities.
- Enter into the best partnerships
MIPIM Horizons is designed to encourage the development of new partnerships and the sharing of know-how and expertise between real estate leaders and partners. Thanks to these exchanges, international companies are better equipped to enter into local markets and regional developers learn to implement best practices in fast-growing regions.
- Discover the most recent innovations and developments
Fast-growing markets are shaping the future of real estate and paving the way to new types of investment.
At MIPIM Horizons, professionals and partners will be able to discover the most recent innovations and developments in the real estate market, in particular in the financial, architectural and environmental areas.
Exhibitors
- Local real estate developers and property owners from fast-growing markets
- Local and regional authorities
- Local branches of international brokers, consultants and banks
- Service providers and suppliers willing to promote their know-how in rapidly-growing markets
Visitors
- International investors: Leading international firms seeking to optimise their portfolio allocations, REITS specialising in high-growth property markets
- Local investors looking for international partners
- Occupiers / end-users, hotel operators
Other players willing to accelerate their development in those regions will also visit or exhibit:
- Lawyers
- Architects / Planners
- Associations, Research Institutes and Press
- Service providers / Suppliers