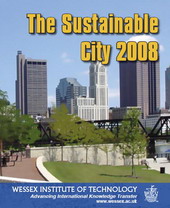 The Sustainable City Conference aims to address the many inter-related aspects of the urban environment from transport and mobility to social exclusion and crime prevention. It is hoped that the meeting will build on the contributions made in previous conferences, which successfully managed to provide an international view of the problems facing modern cities and their solutions.

Urban areas produce a series of environmental problems arising from the consumption of natural resources and the consequent generation of waste and pollution. These problems contribute to the development of social and economic imbalances. All these problems, that continue to grow in our society, require the development of new solutions.

The Sustainable City 2008 follows four very successful meetings held in Rio (2000); Spain (2002), Siena (2004) and Tallinn (2006). The Conferences attracted a large number of contributions from participants from different backgrounds and countries. The variety of backgrounds and experiences is one of the main reasons behind the success of the series.

Who Should Attend
City Planners, architects, environmental engineers and all academics, professionals and practitioners involved in the wide range of disciplines associated with creating a sustainable urban environment.

Topics
- Strategy and development
- Planning, development and management
- Environmental management
- Planning issues
- Socio-economic issues
- The community and the city
- Cultural heritage
- Architectural issues
- Traffic and transportation
- Land use and management
- Public safety
- Sustainable transportation and transport integration
- Energy resources systems
- Healthy cities
- Urban-rural relationships
- Spatial modelling
- Mega cities
- Indicators: Ecological, economic, social
- Revitalisation strategies

Call for Papers
Papers are invited on the topics outlined and others falling within the scope of the meeting. Abstracts of no more than 300 words should be submitted as soon as possible. We strongly encourage the submission of abstracts electronically.

Abstracts should clearly state the purpose, results and conclusions of the work to be described in the final paper. Final acceptance will be based on the full-length paper, which if accepted for publication, must be presented at the conference. To be fair to all participants, each registered delegate will only be able to submit one paper. The language of the conference will be English.

Papers may still be accepted for oral presentation shortly before the conference takes place. It may not however, always be possible to include late Papers in the Conference Proceedings. Instead, late Papers may be published in a future edition of the Conference Book Series.