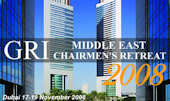 The GRI Middle East Chairmen's Retreat is a select and informative 2 days of relaxed, informal, living room style discussions on best practice and industry issues.
Limited to the top 100 chairmen and CEO's in real estate including real estate investors, financiers, owners and developers in and out of the Middle East. By invitation only it is reserved to the Chief Real Estate Executive within any organization or the immediate second-in-command.
The unique quality, guaranteed seniority and small size of the audience, as well as the quiet and unpressured seclusion of the conversations, makes the GRI Middle East Chairmen''s Retreat an unusual opportunity to take stock, set directions, create new friendships and build business. No speeches. Just discussions in small groups. As if in one''s own living room with a small group of friends.