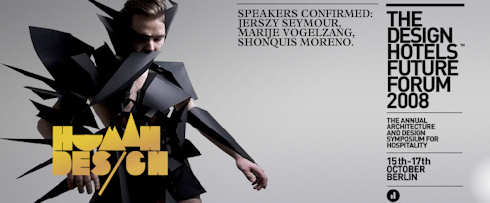 In its fifth year running, the Future Forum will once again connect leading talent in the design, art and architecture communities with great minds from the hospitality industry. Hoteliers, developers, investors, architects, designers, restaurateurs and consultants will come together to broaden their perspective on the ever-expanding hospitality world.
Human - Design
This year''s Design Hotels™ Future Forum will explore the relationship between the human being and design. This expansive topic will be discussed within the context of two design developments that have and will continue to affect the hospitality industry:

Design as Art
Aesthetically, design addresses the human wish for a unique identity and luxury status.
Conscious Design
Ethically, design strives to be socially responsible and efficient, addressing the needs of the human being living in the modern world.
Food Design:
Inventively, design has taken the human necessity for food and made the complete dining experience aesthetically pleasing and artistically provoking.
Form Follows Values:
The brightest and most innovative minds in the contemporary design world will share personal experiences and moderate discussions related to hospitality and the Design Hotels™ brand.
Confirmed Speakers
- Christopher Sanderson (UK)
- Martin Raymond (UK)
- Jason Miller (USA)
- Stephen Burks (USA)
- Friends with You (USA)
- Jerszy Seymour (Canada)
- Marije Vogelzang (Netherlands)
- Claus Sendlinger (Germany)
- Andrej Kupetz (Germany)
- Shonquis Moreno (USA)
Agenda
15 October 2008
Welcome Champagne Reception at Berlin´s TV tower at Alexanderplatz
16 October 2008
Trend Brief
We start the symposium with an opening by Claus Sendlinger, CEO Design Hotels™, followed by a trend analysis from The Future Laboratory in London, recognised internationally for its innovative approach to trend forecasting, consumer insight and brandstrategy. The job of The Future Laboratory is to bring the future to you.
The Lectures: Design a Meal!

Marije Vogelzang is as an eating designer and has a restaurant in Rotterdam and an eatingdesign studio in Amsterdam. She is considered one of the pioneers in the field of food and design, and her projects range from edible art installations to concept dinners and tastings. Marije has developed a particular philosophy about food and design that she will present in Berlin.
Lectures: Design as Art
Boosted by events such as Design Miami / Art Basel, galleries such as Kreo, brands such as Established & Sons, and auction houses such as Phillips de Pury, the biggest names in contemporary design are getting more and more involved with the world of collectors and art investors.
For some designers this leads to the creation of exclusive, iconic and unique pieces, while others, such as last years' Future Forum speaker Jurgen Bey, see an even bigger potential in a new freedom for exploring future design scenarios with a limited budget. For the partners of the Design Hotels™ network, this development adds an interesting dimension to the ongoing discourse over the meaning, relevance and quality of the term design. While at some point the term seems to lose impact by being too broad, the "Design as Art" development creates a new luxury segment.
Lectures: Conscious Design
With the term sustainability being the most prominent buzz-word of recent months, the true relevance of the discussion behind it has tremendously influenced mass, as well as nichemarket dynamics, and will continue and increase to do so in the foreseeable future. Some of the world's brightest designers have started working away from the omnipresent feeling of guilt and have moved towards the most innovative, appealing and responsible opportunities of conscious and sustainable design, which finds its demanding audience among the "new mass-affluent."
We Art What We Eat (Cooking Art Performance by The Foodists)

Aside from sculpturesque dining tables and plates, could a cooking spectacle be considered art? Food is served in Petri dishes, constructed as lozenges, foams, jellies, purées, powders, and presented so exquisitely, that they can be sensed as artistic fabrications.
The chef is an artist, the plate his canvas, the food his medium, and the restaurant his gallery. Artists, representatives of the media, members of Design Hotels™ and all Future Forum guests will gather for a stimulating cooking art happening
by The Foodists, a food performance company.
Future Forum meets Berlin Party

Relax and exchange experiences and ideas with an international mix of creative people in the sprawling atmosphere of one of Berlin´s most exciting clubs and cap off the day.
17 October 2008
Usability Workshops
- Future Design Days and Nordic Light Hotel, Stockholm
- Eat&Joy and Klaus K, Helsinki
- Heartbeats and Lux 11, Berlin
- Charity: Water and Design Hotels™ CEO Claus Sendlinger
Design Trend Laboratory

One dedicated partner (tba) gives a deep insight into exclusive information.
Future Forum Gala Dinner
Our grand finale. Celebrate with us the finest food and wine, fabulous music and the chance to enjoy a unique and glittery location in Berlin. We will make sure that this evening in Europe´s most exciting city will remain unforgettable. Dress Code: Black Tie.