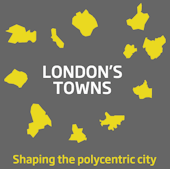 Reflecting Mayor Johnson's promise to give more attention to the outer borough's, the "London's Towns" conference series brings together the policy-makers, planners, developers, architects, sub-regional organisations and public, to inform, inspire and encourage debate about the role the capital's towns and urban centres will play in the continued growth and prosperity of London as a world city.
Three half-day conferences will explore the issues affecting the planning, development and future potential of the capital's suburban ring.
Conferences
09 October 2008

Developing Communities: How The Outer Boroughs Work
30 October 2008
Placemaking: Creating a Destination
04 November 2008

Connecting Outer London
Tickets

Standard: 149 Pounds / 129 Pounds for Partners
Buy all three for: 399 Pounds
The Exhibiton
The massive spread of London that took place in the 1930''s absorbed towns like Kingston, Croydon, Harrow and Romford into the metropolis. Generally surrounded by surburban developments of detached and semi-detached homes with gardens, and celebrated in John Betjeman's Metro-land, these areas of London seem to come off second best when compared to the Mayor's policies on the central boroughs and Thames Gateway. This exhibition looks at the characteristics of the surburban ring of the capital and the part these areas play in the planning of London.