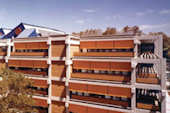 Starting with their collaboration on groundbreaking green policies and designs for the State of California under then-Governor Brown, this incredible group of people introduced and advanced many of the innovations that form the backbone of the green building and sustainability movements. And they helped show that environmentalism must extend beyond conservation of natural lands and resources to encompass a comprehensive vision for human habitats - sustainable cities and towns.
On 26 September 2008, these leading innovators will join together in San Francisco for a rare one-day seminar on the past and future of sustainable communities. With Jacky Grimshaw of the Center for Neighborhood Technologies moderating, they will explore the juncture of ecology and urbanism that''s now more critical than ever. Between buildings and transportation systems, the design of communities accounts for at least two-thirds of U.S. energy use and greenhouse gas emissions. Real relief from costly gasoline dependency and real progress against global climate change can only come from shifting from the inefficient sprawling forms of development that have prevailed and embracing efficient, enduring models for living. It''s an economic and social transformation for which there are few more qualified guides than the participants in Sustainable Communities 2008. Join them for this event''s lectures and important interactive afternoon session devoted to the future of sustainable communities and the government policies -including California''s Global Warming Solutions Law, the proposed SB 375 and the upcoming federal T4 transportation bill- that can support them, if they stay on track.
As issues with energy prices, greenhouse gas emissions, water quality and quantity, and food production point increasingly to the need to reform the ways our communities are built - this seminar is a must for design professionals and citizens alike. The host of the seminar is the Congress for the New Urbanism, the leading organization promoting walkable, neighborhood-based development as an alternative to sprawl. And at the event, CNU will also honor Van der Ryn with a CNU Athena Award, which is given to those design and development leaders who laid the groundwork for today''s revival of urbanism.
Speakers

- Sim Van der Ryn
- Jerry Brown
- Paul Hawken
- Peter Calthorpe
- Stewart Brand
- Peter Schwartz