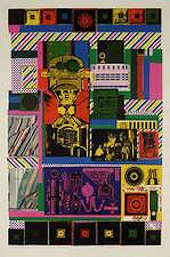 Tate Britain organizes the "Architecture and Design in The Bacon Era" discussions with The Architecture Foundation. The events are supported by The Estate of Francis Bacon.
01 October 2008, 19:00 - 21:00
Texture
New Brutalism broke away from the abstract, weightless planes of early modernism towards a fascination with the weighty, the substantial and the rough, paralleling Bacon''s fascination with the texture of paint. Writer and critic Beatriz Colomina and architects Tony Fretton and Zaha Hadid join Mark Cousins to discuss the moment's impact and legacy.
08 October 2008, 19:00 - 21:00
Image

Photographic processes transformed the visual landscape of the 1950''s. Television and mass circulation of newspapers and print led to a pictorial explosion. By the 1960s the ''image'' defined ''Pop art'' with its references to the everyday. To discuss the continuum of this moment across art, architecture and the twenty first century, Peter Cook of Archigram joins Peter Blake and Marko Livingstone.
Entrance Fees

7 Pounds (5 Pounds concessionary price for the members of The Architecture Foundation)