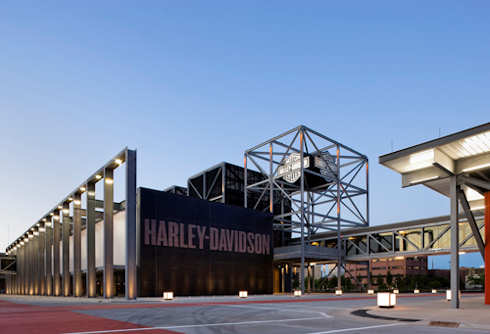 The recently opened Harley-Davidson Museum designed by James Biber, principal of Pentagram Architects, with exhibit design by Abbot Miller, partner at Pentagram Design, showcases the history, culture, and engineering of a uniquely American icon. Occupying a 20-acre reclaimed industrial site in the heart of Milwaukee, Wisconsin, the museum's design, echoing the materials and aesthetics of its contents and context, creates a new paradigm for the integration of a corporate museum into its local community, while also clearly presenting the Harley-Davidson design story to a global community of enthusiasts.
Conceived of as a factory typology within an urban fabric, the 130.000 square-foot museum design consists of three interconnected buildings with space for permanent and temporary exhibitions, an extensive archive of motorcycles and Harley-related memorabilia, a restaurant, a café, and a retail store. Inspired by bike rallies, the museum has both indoor and outdoor components that create a new neighborhood within the texture of the city and allow for a continuously changing street display of visitors' bikes. The factory typology extends to the interior, which has an exposed structure and is organized with large open spaces, lined with mezzanines and four large towers.
The museum's permanent exhibition was developed in close coordination with the architecture, affording the opportunity to integrate the exhibits into the building's structure. The displays include a massive cantilevered "bridge" that rises up from the ground floor to display stunt motorcycles, an engine room displaying 30 engines, and a replica of a board track, a death-defying wooden racing course from the 1920''s. Platforms, railings, display cases, and slatted walls refer to the industrial vernacular of simple machinery and the world of the garage and factory.
James Biber is the New York-based principal of Pentagram Architects, the architectural practice of the multidisciplinary firm Pentagram. His work covers a wide range of building types and client profiles, including corporate headquarters, restaurants, museums, retail interiors, exhibitions, private residences and housing, furniture and lighting. Abbott Miller is a partner in the New York office of Pentagram. He is a designer, writer, curator, and educator whose projects are concerned with the cultural role of design and whose work has taken shape through exhibitions, symposia, publications, and media projects. Phil Patton writes about automobile design for The New York Times and is the author of many books on design and culture. His books include Open Road: A Celebration of The American Highway, and Made in USA: The Secret Histories of the Things that Made America.
Speakers: Jim Biber and Abbot Miller, Pentagram Architects
Moderator: Phil Patton
Tickets are required for admission to League programs. Tickets are free for League members, 10 Dollars for non-members.