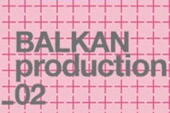 The series "Balkan Production" is dedicated for the second time to architectural events in Southeast Europe on the basis of brief motivational lectures and discussions. This time committed, established and emerging architecture offices from the young Republics of Bosnia-Herzegovina, Croatia and Macedonia provide insights into the architecture scenes in their respective countries and encourage debate on the realities and future developments of architecture in Southeast Europe.

- Vesna Vucinic, (Architect and Correspondent A10) in conversation with Saša Randic (Randie-Turato, Rijeka - Croatia)
- Sanja Galic-Grozdanic and Igor Grozdanic (studio nonstop, Sarajevo - Bosnia-Herzegovina): "Sarajevo Nonstop City"
- Minas Bakalcev and Mitko Hadzi-Pulja (Ss. Cyril & Methodius University, Skopje - Macedonia: "Everyday Manifesto / Metamak Architecture"

Balkan Production is organized twice annually at the Architekturzentrum Wien, in cooperation with REHAU. The series include short lectures and moderated discussions about architecture in Southeast Europe, presented always with 1 representative from 3 architecture offices from 3 different Balkan countries.