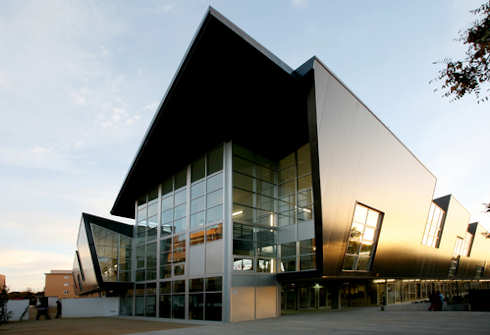 Primary School in Castelldefels, Barcelona - Spain
Photo by COPCISA
After reaching professional recognition together with Enric Miralles with projects such as the Cemetery of Igualada, Carme Pinós established her own Barcelona-based firm, Estudio Carme Pinós, in 1991. Pinós has since endeavored to create an experiential "architecture to be understood not only with the eyes and the head, but also with the whole body." Her built work, such as the Pedestrian Bridge in Petrer, Alicante, Spain; the La Serra High School in Molerussa, Spain; and the Primary School in Castelldefels (Barcelona), embodies her interest in the relationship between site, path, and program. Current projects include the Novell housing complex in Florence, Italy; the Catalan Government Headquarters in Tortosa, Spain; a high school in Sant Carles de la Rapita, Spain; and the design of the Gardunya Square in Barcelona, as well as housing and the Massana Fine Arts School adjacent to the square.
Combining her practice with active teaching, Pinós has been a guest professor at the University of Illinois at Urbana-Champaign, the Kunstakademie in Dusseldorf, Columbia University, the Ecole Polytechnique Fédérale in Lausanne, the Harvard University Graduate School of Design, the Accademia di Archittetura di Mendrisio in Switzerland, and the Universitá di Roma Tre.
Her work has been recognized with several awards and mentions, including the National Prize of Architecture by the Consejo Superior de los Arquitectos of Spain in 1995 for the Boarding-school in Morella; the Prize Colegio de Arquitectos de la Comunidad Valenciana in 2001 for the Waterfront in Torrevieja; and the Arqcatmón Prize from the Colegio de Arquitectos de Catalunya in 2005 for the Cube Tower in Guadalajara. After being runner-up in the Latin-American Biennale of Architecture in 2006, the Cube Tower was awarded First Prize in the Spanish Biennale of Architecture in 2007. Carme Pinós has most recently been awarded the National Prize of Architecture and Public Space by the Catalan Government in 2008 for her body of professional work.
Tickets are required for admission to League programs. Tickets are free for League members, 10 Dollars for non-members.