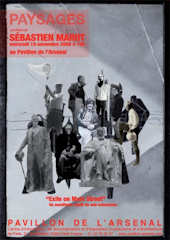 The concept of landscape, often used today in the context of urban design, encompasses new issues involved in the creation of cities: scales, borders and environment.

Paris, the surrounding region as well as many other cities are currently examining public space, the integration of works of art, the reintegration of existing architecture both in the heart of cities and at the borders.

Taking this development into account, the Pavillon de l'Arsenal has decided to invite landscape architects, architects, urban designers and engineers to host the new series of conferences. They will elaborate on their approaches by presenting their works and thus contributing to a much needed discussion on the possible future of Paris' cityscape.

Sebastien Marot, philosopher training, assistant professor at the architecture school in Marne-la-Vallee and guest professor at the Institute of Landscape Architecture at the Swiss Federal Institute of Technology Zurich.