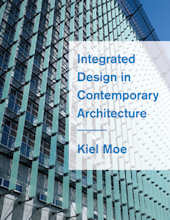 "Integrated Design", organized by Urban Center Books and co-sponsored by the Architectural League, characterizes what architects do when they incorporate the energy, site, climatic, formal, construction, programmatic, regulatory, economic, and social aspects of a project as primary protagonists from the beginning of design, working on the premise that energy, construction, and formal strategies should be interlocked. This panel discussion will present four buildings that exemplify this strategy: ShoP Architect's 290 Mulberry in New York, the Sidwell Friends School in Washington D.C. by KieranTimberlake Associates, The Swiss Residence in Washington D.C. by Steven Holl Architects in collaboration with Ruessli Architekten; and Garrison Architects' United States Border Patrol Station in Murrieta, California. Introducing the discussion will be Kiel Moe, author of the new book, Integrated Design in Contemporary Architecture, recently published by Princeton Architectural Press.
The book argues that the result of integrated design is better building design and performance through direct engagement with these multiple, often complex, contexts that condition contemporary architecture. Integrated design further lends itself to collaborative structures of practice in contrast to the model of the singular architect. In this book there is an explicit recognition that any building is a product of the social and technical contingencies that presuppose it.
Kiel Moe received his B.Arch from University of Cincinnati, his M.Arch from University of Virginia, and a M.DesS from Harvard University Graduate School of Design Advanced Studies Program. He has taught at Syracuse University and the University of Illinois, Chicago, and is currently Assistant Professor at Northeastern University. Moe has worked for WW, Doug Garofalo, Hargreaves Associates, The Salk Institute for Biological Studies, among other offices. He has a design/build practice for small, research-driven projects and contracts for other architects on the design of integrated material and energy systems for larger projects.