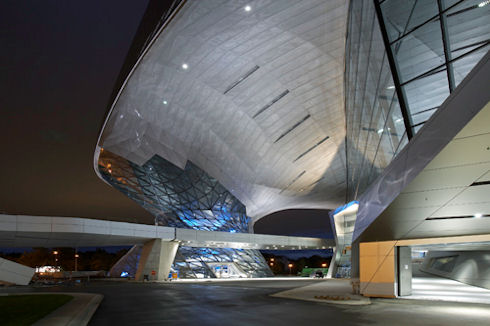 Wolf D. Prix co-founded Coop Himmelb(l)au in 1968 along with Helmut Swiczinsky and Michael Holzer, defining the practice as "not a color but an idea, of creating architecture with fantasy, as buoyant and variable as clouds." Over the intervening years the Vienna based firm has successfully followed its original intent to create an architecture that "has no physical ground plan, but a psychic one" characterized by walls that "no longer exist" and spaces that "are pulsating balloons…" In 1988, a second studio was opened in Los Angeles. Michael Holzer left the team in 1971. Helmut Swiczinsky retired in 2001 from the firm's daily operations and in 2006 from the office for health reasons. In 2004, Wolfdieter Dreibholz became a partner.
Recently completed work includes The Academy of Fine Arts and the BMW Welt, both in Munich; Apartment Building Gasometer B, Vienna; the Akron Art Museum, Ohio; and the Central Los Angeles Area High School #9 of Visual and Performing Arts. Current projects are the Musée des Confluences, Lyon; new headquarters for the Central European Bank, Frankfurt am Main; Busan Cinema Center, South Korea; and the expansion of the Cloud Roof exhibition center, Riva del Garda, Italy.
Past projects include the Rooftop Remodeling Falkestraße in Vienna; the "master plan" for the City of Melun-Sénart in France; the Groninger Museum, East Pavilion in Groningen in the Netherlands; the design for the EXPO.02-Forum Arteplage in Biel, Switzerland; and the multifunctional UFA Cinema Center in Dresden.
Over the course of the past three decades, Coop Himmelb(l)au has received numerous international awards. These include: the Förderungspreis für Baukunst, Berlin (1982), the Award of the City of Vienna for Architecture (1988), the Erich Schelling Architektur Preis (1992), the P. A. Award (1989, 1990, and 1991), the Großer Österreichischer Staatspreis (1999) as well as the European Steel Design Award (2001). In December 2002, Coop Himmelb(l)au was made Officier de l'ordre des arts et des lettres and was awarded the Ehrenzeichen für Verdienste um das Land Wien. In 2005, for the design of the Akron Art Museum, the office received the American Architecture Award. The office was awarded the 2007 International Architecture Award for four projects: for the Busan Cinema Complex, the Akademie der Bildenden Künste, the Great Egyptian Museum at the pyramids in Giza, and the Space of Contemporary Artistic Creation in Cordoba. In 2008 Coop Himmelb(l)au received the RIBA International Award for the Akron Art Museum and the RIBA European Award for the BMW Welt. The firm has been widely exhibited, including the solo retrospective "Construire le Ciel" in 1992 at the Centre Georges Pompidou in Paris, France, and the exhibition entitled "Deconstructivist Architecture" held in 1988 at the Museum of Modern Art.