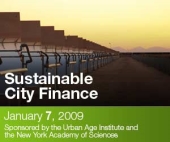 A green economy must be environmentally and monetarily sustainable. Paying for green technologies, jobs, buildings, cars, and infrastructure will require innovations in how we see, use and exchange money and credit. A dual crisis -- of the environment and of the banking system -- provides us with a ''magic moment'': to enable sustainability in cities and regions, plus provide adequate financing for those local governments to utilize new technologies and transition to a cleaner and greener urban age.
Sustainable cities are home to green consumers, triple bottom line green businesses, entrepreneurial nonprofits and government agencies. Financing for the best initiatives is delayed and inadequate. Unconnected pieces and spigots left over from the carbon-based economy are corrosive legacies, and their investment practices do not suit the sustainable city''s financial needs. We must think anew about credit, money, banking, ratings and investment.
"Sustainable City Finance" will gather thought leaders and pioneers who are working to implement solutions, to share their views of what exists, what is needed, and how sustainable cities can best leverage the reform of banking and credit markets.