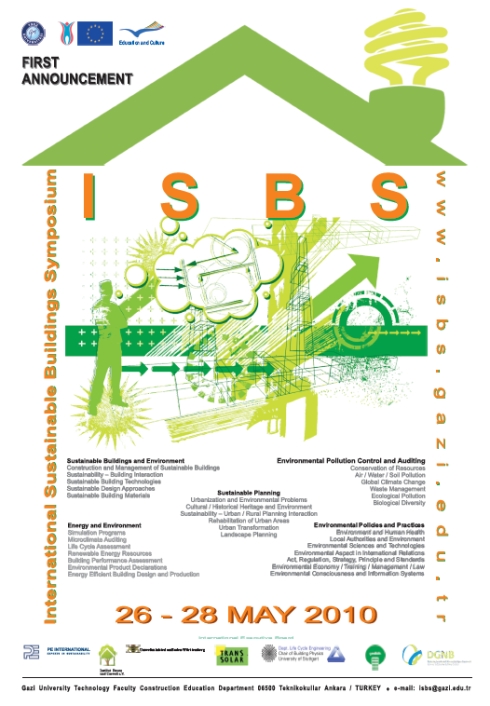 It is an honour and a real pleasure to invite you to participate in the international symposium which will be held by the Project Team of the European Union Leonardo da Vinci Lifelong Learning Mobility Project "Examination of Life Cycle Assessment Method in the context of the Environmental Impacts of Construction Materials" between the dates of 26-28 May 2010.
Deadline for Abstracts 15 January 2010
Deadline for Abstract Acceptance/Rejection 01 February 2010
Deadline for Proceedings 01 March 2010
Deadline for Proceeding Acceptance/Rejection 20 March 2010
Deadline for Symposium Fee Payment 01 April 2010
All the proceedings from the symposium will be published by Gazi University. Selected papers will be published by some leading scientific journals around the world with which agreement is about to be reached to do so in their regular publications and/or in their special symposium issue publications.
There will be most up to date communications facilities available and local and international media organizations as well as specialized publications on environment will be invited to send their representatives to cover the symposium.
Provisional Programme:
May 25th, 2010 Transportation from airport to hotel
May 26th, 2010 Transportation from airport to hotel and symposium venue, Registration, Welcome reception, Symposium day
May 27th, 2010 Full symposium day, GaBi introduction seminar, Gala dinner
May 28th, 2010 Symposium day, Optional local excursions (Ataturk''s Mausoleum, War of Independence Museum, Ethnography Museum, Antik Roman Bath, First Building of Grand National Assembly of Turkey, Hacı Bayram Mosque, Ankara Castle, Museum of Anatolian Civilizations, Rahmi M. Koç Museum), Transportation to airport
May 29th, 2010 Optional suburban excursions (Gordion/Hattusas/Kızılcahamam/Beypazarı), Transportation from hotel to airport
Symposium Language:
The official languages of the symposium are Turkish and English. Proceedings will be accepted in either of these languages.
Participation Certificate:
Symposium participants will be awarded with a participation certificate.
Invitation Letter:
An invitation letter will be sent to the participants who perform the online registration, with an accepted proceeding.
Accommodation:
Related information will be announced later.