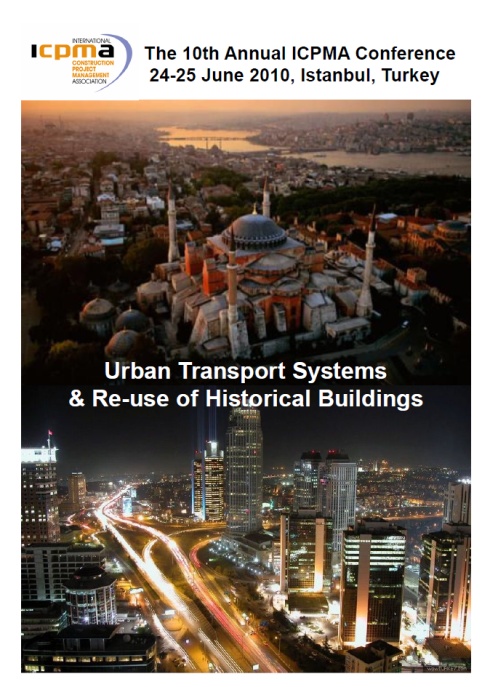 ICPMA was initiated in 2001 in Cannes, France, as an informal group of professionals, academics, and association representatives active in the field of Construction Project Management with objectives to:
Identify, develop, use and share the knowledge of construction project management worldwide;
Create an international platform for construction project management;
Gain recognition for the profession and ICPMA;
Set international standards for construction project management
Since 2003, ICPMA has gained in membership and following the Association''s 2005 AGM in Prague a constitution has been developed to further pursue these objectives. In the following year ICPMA was registered as a non-profit organisation in Switzerland. Until the 2009 AGM the ICPMA membership was based on country principle with the idea of having a representative of professional practice, university and national association from every member country. ICPMA had Austria, Belgium, Czech Republic, Germany, India, Ireland, Poland, Spain, Switzerland, Turkey, United Kingdom and USA as members. The 2009 Annual General Meeting in Berlin ICPMA adopted a new membership structure, abandoning the country membership principle and opened membership to individuals and organisations associated with the Construction Project Management. Each member pays only a nominal admission and yearly fee but is committed to a specific professional contribution (e.g. active participation in the ICPMA Knowledge Management Centre, papers, conferences, seminars, practice reports, interviews, contributions to ICPMA website etc.). Organisations become members via their delegates (up to 10 persons).
ICPMA membership fee structure since July 2009 is:
Membership Type Admission Fee Annual Fee
Individual
Professional (e.g. practitioner, academic, etc.) EUR 100.00 EUR 100.00
Student (min. Bachelor degree) EUR 25.00 EUR 25.00
Organisation
(e.g. company, university, association, etc.) EUR 1,000.00 EUR 1,000.00
The driving idea behind ICPMA membership is to contribute professional experience, share it to achieve the Association''s objectives, and thus create mutual benefit for all members.
You are invited to join ICPMA to share in the best practice information worldwide!
Programme
Thursday, 24th June 2010
Theme 1 - Urban Transport Systems
Chair Wilhelm Reismann
13:00 Registration of participants
13:50 Welcome and review of the Theme 1
Topic A - Life Cycle
14:00 Porie Saikia-Eapen, NYC, USA
Vice President, NYC. CH2MHILL
Project Management Experiences in Urban Rail Projects in New York/ New Jersey
14:30 Antonio Campos e Matos, Portugal
Senior Civil Engineer, Major Partner,Gabinete de Estruturas e Geodeticnia
Life cycle of railway projects
Topic B - Public Private Partnership
15:00 Huseyin Belkaya, Turkey
Project Manager in the Engineering and Consulting Services of the Marmaray Project
Zeynep Sindel Buke, Turkey
Technical Coordinator and Design Supervisor in the Engineering and Consulting Services of the Marmaray Project
The Marmaray Project: Managing a Large Scale Project with Various Stake Holders
15:30 Coffee break
16:00 Louis Gunnigan, Ireland
Head of School of Construction at Dublin Institute of Technology
Rifat Akbiyikli, Turkey
Associate Professor in Construction at Sakarya University
Experiences of PPP in Urban Rail
Topic C - Construction Project Management
16:30 José-Cruz Penya, Madrid, Spain
Projects Manager for the Network Extension Programs at Metro Madrid
Management Experiences in Urban Rail Projects in Madrid
17:00 Haluk Gerçek, Turkey
Professor of Civil Engineering at Istanbul Technical University Mobility and Accessibility for sustainable urban development: trends and prospects
17:30 Theme 1 wrap-up
19:00 Departure to Gala Dinner/ Boat Trip of the Bosphorus
20:00 Gala Dinner
Friday, 25th June 2010
Theme 2 - Re-use of Historical Buildings
Chair Louis Gunnigan
8:30 Registration of participants
8:50 Welcome and review of the Theme 2
Topic A - Life Cycle
9:00 Ilhan Tekeli, Turkey
City and Regional Planner, Social Scientist
Sustainability of cultural heritage and re-use
9:30 Ayse Zeynep Ahunbay, Turkey
ITU Faculty of Architecture
Historic buildings and potentialities for their re-use
Topic B - Public Private Partnership
10:00 Edgar Lehner, Austria
Project director for Bahnhofsoffensive Vienna, OeBB-Infrastruktur-AG
Wilhelm Reismann, Austria
Partner iC consulenten
BahnhofCity Wien West - multifunctional urban centre and railway station
10:30 Coffe break
11:00 Jurij Rihar, Slovenia
Project Manager, Elea iC d.o.o.,Ljubljana
Angelo Zigon, Slovenia
Director, Elea iC d.o.o.,Ljubljana
Historical buildings as part of modern infrastructure - a challenge for professionals
Topic C - CPM
11:30 Thomas Macoun, Austria/ Bulgaria
Professor at the Institute of Transportation Science, Center of Transport Planning and Traffic Engieering, TU Vienna Professor at the Faculty of Transportation Planning, University of Architecture, Civil Engineering and Geodesy, Sofia, Bulgaria
Peter Dosti, Austria
Managing Director, LOBiC - transport and logistics experts
Sustainability in the mobility and transportation sector
12:00 Bernhard Aebi, Switzerland
Partner / Architect HTL SIA FSAI, Bern/ Geneve
Refurbishment off he Swiss Parliament Building in Berne
12:30 Theme 2 wrap-up/ Conference wrap-up
13:00 Buffet lunch
14:00 Project Site Visits
Site A - Santral Istanbul
Refurnished and converted from a 60 year old Electric Power Plant to a museum, art gallery and campus buildings for Bilgi University in Istanbul.
Site B - Hagia Sophia
One of the oldest buildings in Europe, originally Christian basilica from 537, later converted to a mosque, and currently undergoing extensive reconstruction as historical monument.
Konuyla İlgili Linkler