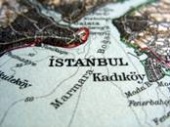 The second annual summit of this vibrant and growing network of cities, developers and investors is taking place in Istanbul, 23 September 2010.
The agenda is designed by the leading experts to bring a timely programme with an aim to encourage debate and discussion between practitioners and to consolidate a common agenda around urban investment across Europe.
Join us at the Summit to building partnerships and connect cities and the private sector.
For more information on the Urban Investment Network Summit and to download the "2009 Summit Paper" as well as the Summit 09 report, please visit www.uli.org/uin