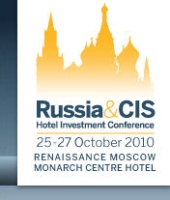 The 6th Russia & CIS Hotel Investment Conference (RHIC) will take place 25 - 27 October 2010 at the Renaissance Moscow Monarch Centre Hotel.
RHIC is the premier annual event for the regions hotel investment community. Attend RHIC and you will meet potential business partners and get the inside track on new developments and how hoteliers are driving profits in these challenging times at the largest gathering of hotel investors, operators and developers from Russia and the CIS.
The comprehensive three day conference programme includes interviews with leading hoteliers, forecasts from top economists and panel discussions on the latest developments, trends and best practice in the hotel and investment industry.
CONFERENCE SESSIONS INCLUDE:
* What do the next five years hold for Russia and the CIS?
* Leaders'' panel - Dispelling the myths and mitigating the risk
* Market overview - What are the demand patterns and statistics telling us?
* What should your management company be doing to protect your investment?
* Reviewing major hotel developments in Russia and the CIS
* Bankers'' forum
* What are the risks of franchising hotels?
* Less stars = higher return on investment?
* The next generation of hotel design
* The city forum - finding the right destination for your investment
* 2014 Winter Olympics - Profiting long term from large scale events
* Hard talk with new owners - what worked, what didn''t?
* Hard talk with operators looking to launch luxury hotels in Russia and the CIS

NEW FOR 2010 - ASK THE EXPERTS
This is your chance to get advice pertaining directly to your business, from leaders in their field. The sessions will be run as round tables and dialogue is encouraged. It is a great opportunity to get practical advice from the experts and also to learn from your peers.
* How to build green hotels.
* How to keep good staff and high levels of service.
* How to revenue generate - particularly where supply is outpacing demand.
* How to select the right project team.
* Lessons learned as a foreigner building in Russia.
* How to asset manage and improve hotel performance.
Konuyla İlgili Linkler