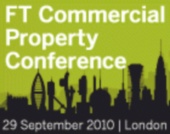 The 2010 Financial Times Commercial Property Conference brings together some of the best minds in the property business to discuss the developments shaping tomorrow''s market. The forum takes a global context, but focuses on the impact of global development on property markets in Europe and CEE countries.
CONFIRMED SPEAKERS INCLUDE
Serena Althaus, Managing Director Europe, Ferguson Partners Europe
Scott Barnes, Chief Executive Officer, Grant Thornton
Jaap Blokhuis, Chief Executive Officer, Redevco
Michael Brodtman, Executive Director, CB Richard Ellis
Pierre Cherki, Chief Executive Officer, Europe and MENA, RREEF
Philip Clark, European Head of Property Investment, AEGON Asset Management
Ginny Gibson, Professor of Corporate Real Estate, University of Reading School of Real Estate and Planning
Pieter Hendrikse, CEO, ING Real Estate Investment Management Europe
Nils Kok, Professor in Finance and Real Estate, Maastricht University
Leanne Lachman, President, Lachman Associates, LLC
Roger Quirijns, Head of European Research, Cohen & Steers
Olivier Piani, CEO, Allianz Real Estate
Nigel Roberts, Chairman, EMEA Research, Jones Lang LaSalle
Nick Scarles, Group Finance Director, Grosvenor
Martin Wolf, CBE, Associate Editor, Chief Economics Commentator, Financial Times
ISSUES FOR DISCUSSION INCLUDE
- European bank lending: will it continue to ease, or are banks postponing the inevitable by opting for workouts rather than calling in wobbly or defaulting loans?
- New funding sources: What''s on the horizon and which geographies will they come from? Where will new finance be most profitably employed - in terms both of property type, and geography?
- Market players: Will investors and lenders continue a heavier focus on the business strategy and fundamentals of asset managers? What other changes can we expect in relationships between players in the property market?
- Sustainability: what are current management best practices for approaching sustainability?
- Talent management: What are CEOs doing to restore stakeholder trust in a business climate in which this is at an all-time low. How does this affect their ability to attract and retain the talent needed to drive long-term growth and innovation?