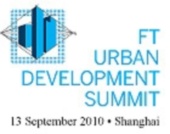 The inaugural Financial Times Urban Development Summit, to be held in partnership with the UK Programme of Events at Shanghai World Expo 2010, will bring together municipal leaders, urban planners, designers and investors to discuss the most effective and sustainable solutions to the massive challenges of urbanisation.
Building on the FT''s successful series of Urban Regeneration Summits, the Urban Development Summit will showcase best practice and the sharing of expertise by urban planners across a range of key topics including renewal of industrial cities, creation of knowledge hubs, energy efficiency, and innovation in financing.
The conference will also feature an exclusive panel of UK and Chinese mayors, and the announcement of the results of a unique UK-China government dialogue on sustainable urban development.
Issues to be addressed include:
- How would the UK''s model of urban regeneration be adapted to cities in China, and what would Chinese planners do to avoid some of the failures in social regeneration that still affect British cities?
- What are the key steps that planners need to take to move cities from the industrial sector to the knowledge sector and what conditions should be present to ensure success?
- China has begun to develop a number of energy efficient eco-cities. How can such concepts be adapted to existing, older urban areas? What can the UK learn from countries such as China?
- What are the most successful examples of innovative urban investment-raising schemes around the world and how can they be adapted to countries such as the UK and China?
- What regulatory frameworks and incentives have to be established to attract sufficient levels of investment from the private sector?Speakers
Conference Co-Chairs
Greg Clark, Project Director, UK-China Sustainable Urban Development Dialogue
David Pilling, Asia Editor, Financial Times
Keith Clarke, CEO, Atkins
Speaker(s)
Stephen Barter, CEO, Qatari Diar UK and Chairman of Advisory Board, Oxford University Programme for the Future of Cities
Klaus Gerhaeusser, Director General, East Asia Department, Asian Development Bank
Dong Jun, Deputy Mayor, Xian Municipal Government
Steve Rayner, Director, Institute for Science, Innovation and Society , Said Business School, Oxford University
Li Shirong, Deputy Director General, Chongqing Foreign Trade & Economic Relations Commission
Wendy Simon, Cabinet Member for Culture & Tourism, Liverpool City Council
Liu Thai Ker, Chairman of Advisory Board, Centre for Liveable Cities, Singapore and Director, RSP Architects Planners & Engineers
Stanley Yip , Director - Planning & Development, Arup China
Sir Richard Leese, Leader, Manchester City Council
Liu Hongyu, Director, Institute of Real Estate Studies, Tsinghua University
Wu Tiejun, Assistant Mayor, Qingdao Municipal Government
Nicholas Loup, Chief Executive Officer, Grosvenor Asia Pacific
Tang Zilai, Head, Department of Urban Planning, College of Architecture and Urban Planning, Tongji University