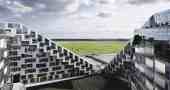 On the 28th September, HP and BIG invite you to Copenhagen, Denmark, to attend the premiere viewing of the new 8 House, created by BIG, and to hear about HP''s new solutions in Architectural, Engineering and Construction (AEC) printing technologies.
Bjarke Ingels and BIG will host the public introduction of the 8 House to the architecture community. The 8 House is in its final stages of completion and already receiving critical attention from the architecture world.
HP will introduce the new Designjet printers, set to transform AEC office printing with web-ready technology. This will be a first look at the products as used by BIG and other leading AEC firms.

To register for this event, visit: http://www.hp.com/go/hpdesignjetlaunchCPH
About 8 House
The 8 House is located in Ørestad on the edge of Copenhagen. The 8 House offers homes for people in all of life''s stages: the young and the old, singles, families that grow and families that become smaller. Instead of dividing the different functions of the building - for both habitation and retail - into separate blocks, the various functions have been spread out horizontally. The apartments are placed at the top while the commercial program unfolds at the base of the building. As a result, the different horizontal layers have achieved a quality of their own: the apartments benefit from the view, sunlight and fresh air, while the commercial merges with life on the street.
About BIG
BIG is a Copenhagen based group of architects, designers, builders and thinkers operating within the fields of architecture, urbanism, research and development. The office is currently involved in a large number of projects throughout Europe, Asia and North America. BIG''s architecture emerges out of a careful analysis of how contemporary life constantly evolves and changes. In our projects we test the effects of size and the balance of programmatic mixtures on the triple bottom line of the social, economic and ecological outcome. Like a form of programmatic alchemy we create architecture by mixing conventional ingredients such as living, leisure, working, parking and shopping. By hitting the fertile overlap between pragmatic and utopia, we architects once again find the freedom to change the surface of our planet, to better fit contemporary life forms. In all our actions we try to move the focus from the small details to the BIG picture.