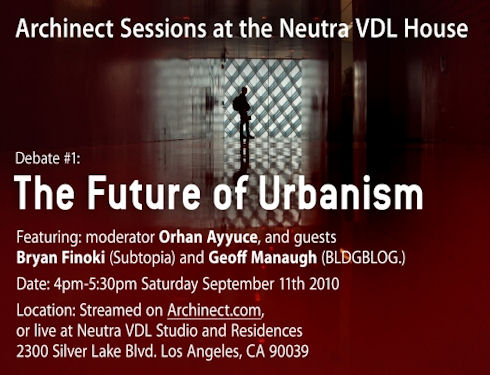 Lively architectural exchanges occur every day in schools, coffee shops, and on online blogs. Archinect Sessions looks to formalize these discussions through a series of debates that will take place in front of live and online audiences. Why debates? Because we believe that a level of criticality needs to return to architecture. This format strips away the visual crutches of the traditional "show and tell" lecture circuit, and instead requires participants to advocate for a particular point of view rooted in genuine political conviction.
For some years now architectural discourse has tended towards the abstruse and self-involved. We are looking here to broaden the conversation. The Archinect Sessions will bring to the surface new developments, strategies, and positions affecting a broad range of issues including urban form, architectural education, practice, and modes of production.
Format & Location
The Archinect Sessions will occur once per month and will focus on a different theme or problematic. A moderator will lead the discussion directing questions at two or more guests. The format will consist of three rounds of discussions (lasting 15 minutes each.) At the end of the three rounds, the audience (both physical and virtual) will get their turn to ask questions of the guests. Online audience members can post their questions online on Archinect (a selection of these will be read by the moderator.)
The Archinect Sessions will be physically located at Neutra VDL House in Silver Lake (2300 Silver Lake Blvd., Los Angeles, CA 90039) and will be streamed live on Archinect.
Because of limited seating at the VDL House, attendance to the live event will be limited to the first 50 people that reserve a space. To reserve a space, email [email protected]
Come join the melee. No hitting below the belt, holding, tripping, pushing, biting, spitting or wrestling.
Topics/Guests
Our first debate, The Future of Urbanism, is scheduled for 4pm on September 11th 2010, will feature moderator Orhan Ayyuce, and guests Bryan Finoki (Subtopia) and Geoff Manaugh (BLDGBLOG.)
Discussion will center on the future of urbanism in series of visual, psychological, political, and fictional snapshots.
Orhan Ayyuce is an architect, educator and writer. He will scribble on any subject: architecture, urbanism, politics, art, culture. Sometimes his low-end, hi-style, avant-garde stuff causes security guards chase him.
Geoff Manaugh is the author of BLDGBLOG where he categorizes his writings as "
architectural conjecture, urban speculation, and landscapes futures." He has lectured on a broad range of architectural topics at design schools and museums around the world, and he has taught at Columbia University, the Pratt Institute, and the University of Technology, Sydney.
Bryan Finoki is a writer, artist, photographer, and worldwide wanderer. He has a background in literature, creative writing, art, psychology, and activism. He maps and writes about the strange urban underworlds and global borders he visits on his website Subtopia.
Series are co-directed by Orhan Ayyuce and Sarah Lorenzen.
Sponsors:
Archinect
Neutra VDL House