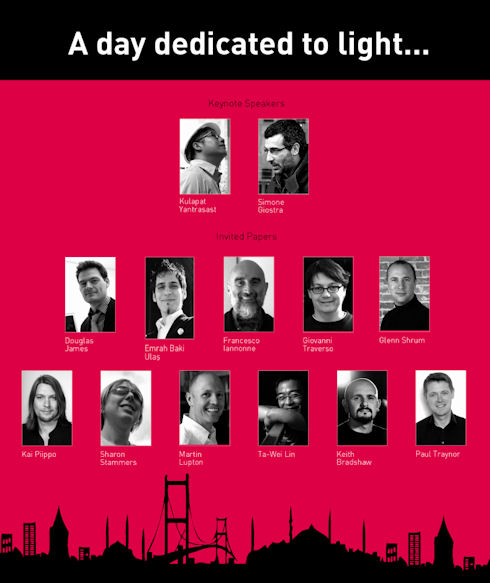 ALD İstanbul is an international conference which is focused on architectural lighting design. The first event will take place in 2010 and will be organized biannually. The purpose of ALD İstanbul is to bring all players of the architectural lighting industry together and to create a theoretical and practical thinking platform within Turkey and near geography such as Russia, Ex-soviet Unions, Middle East, South Europe etc...
The event will host internationally successful architects and lighting designers. Through the presentations and discussions participants will find the opportunity to see recently completed projects related to light and it''s applications. Further the presentations available, ALD Istanbul offers a wide range of content. Cultural background is important for lighting design and for its perception. As same colours can have different meaning in different cultures, the use of the light changes too. In this context, the Pecha Kucha night dealing with the issue `Lighting Design and Culture`, will provide lighting designers coming from different continents and cultures the platform to share their experiences on 20 slides x 20 seconds basis.
This interactive night accompanied by a cocktail will be followed by an outdoor lighting installation based on the concept `Play Ground` designed by Turkish lighting designers.
Why should you participate?
Light and architectural lighting design is an issue, which gains on importance and grows to be perceived by more people. Meanwhile the psychological and physiologic impacts of the light on human beings and its contribution to life quality are being understood. On the other side, with the global warming and the energy crisis, the focus is given on lighting, which consumes approximately 25-30% of energy costs.
Within the construction industry the consciousness on light and lightning continues to develop as well. To ensure the entire process to run in a sound way, it is important, that all architectural lighting professionals (architects, interior designers, electric engineers, urban planners, project coordinators, public authorities etc.) come together. ALD Istanbul provides this environment. The event invites the experts of this field to Turkey to enable the professionals to follow new trends and technologies. With this unique concept, ALD Istanbul will fill an important gap within this geography.
Who should attend?
• Lighting designers, lighting engineers
• Architects, interior designers
• Landscape architects, city planners, public-municipality representatives
• Electrical engineers, construction engineers, project coordinators
• Lighting manufacturers
• Educators and researchers working on lighting discipline.
• Students of architecture and engineering faculties.
Organization
The event will be organized by PLD Türkiye Magazine under the support of Via-Verlag.
• PLD Türkiye: The Professional Lighting Design Turkey Magazine; Since 2005, it has been published as the Turkish version of the PLD Magazine. It is the only magazine, which has devoted itself to the introduction of professional architectural design. It has realized successfully 10 events with different concepts since 2007.
Please have a look at PLD Turkey events: www.pldturkiye.com/kategori/pld-turkiye-etkinlikleri
• Via-Verlag: Via-Verlag, which has been publishing the Professional Lighting Design Magazine since 1998, organizes also the PLDC event, which is the first Global Lighting Design Conference in the world. The event first realized in London 2007 has taken place in Berlin in 2009, which has attracted about 1200 visitors with success.
For detailed information on PLDC event: www.pld-c.com
Partner Associations
• PLDA: Professional Lighting Designers'' Association (PLDA) is an association, founded by international lighting designers and by volunteering consultants. The aim of PLDA is to express the importance of lighting design and its appropriate implementation and further the introduction of it as a profession. The Association has about 700 members from 50 countries and continues to organize events to expand the culture of lighting design in all over the world. www.pld-a.org
• AGİD: AGID, the Turkish Lighting Luminaries Manufacturers Association has been established in 1997 by 19 manufacturing companies of lighting fixtures and components, with the intention of realizing aims such as raising awareness about the identity of the industry, developing individual and collective relationships between the representatives in the industry, enhancing theoretical/academic interactions through common efforts and agreements, completing the process of conforming to international standards and ensuring the proper representation of Turkish manufacturing companies on the international marketplace. AGID continues its activities with a current number of 40 members and sponsors events, which will contribute to the development of the industry. www.agid.org.tr