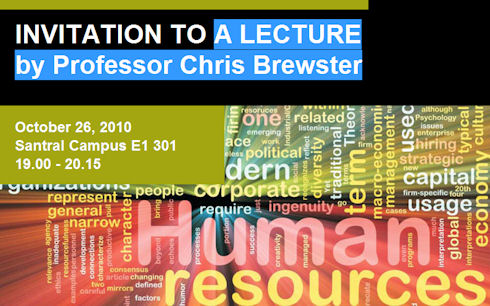 The seminar aims to familiarize participants with the convergence-divergence debate in international management and HRM. The presentation will also describe most recent findings from an extensive survey of HR managers. The session will be concluded with an open discussion on HRM in Turkey.
? Are organizations and HRM practices converging or diverging across the world?
? What is the impact of cultural differences on HRM?
? What are the most critical HR processes that drive high firm performance in the European context?
? Where does Turkey fit in the global context of HRM?
Chris Brewster
Chris Brewster is a Professor of international Human Resource Management at Henley Business School, University of Reading. He gained substantial experience in trade unions, Government, specialist journals, personnel management in construction and air transport, and consultancy, before becoming an academic twenty years ago. Chris has conducted extensive research in the field of international and comparative HRM, and published over twenty books and more than a hundred articles. In 2002 he was awarded the Georges Petitpas Memorial Award by the practitioner body, the World federation of Personnel Management Associations, in recognition of his outstanding contribution to international human resources management. In 2005, a University of Chicago survey found he was one of the most published authors in the international business journals, one of only a handful of human resources management specialist in the list. In 2006, Chris was awarded an Honorary Doctorate by the University of Vaasa in Finland.