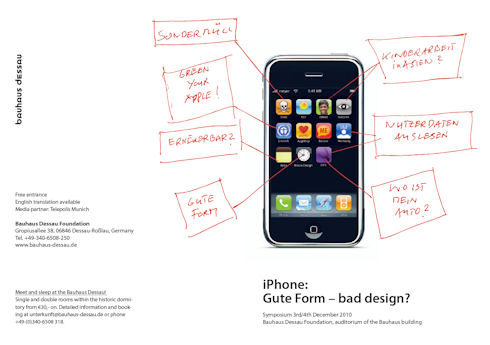 The iPhone is bought for its good design ("Gute Form") and easy handling, both of which distinguish the Apple design from other brand devices. To mark the anniversary of the resignation in 1930 of the second Bauhaus director, Hannes Meyer, who criticised Gropius''s "good designs" and even then called for the formulation of an "ecological design", the symposium discusses Apple''s updating of post-war German design. The fetishised iPhone is, moreover, a crude product of an exploitation of global wage differences that fails to leave a progressive ecological footprint in Asia. Lectures, films and panel discussions argue the significance of this obvious discrepancy between good design in consumption terms and the poor design of the manifestly non-sustainable production of electronic devices.
Friday, 3.12.2010
18.00-22.00 Good design - the aesthetic promise
Philipp Oswalt, Bauhaus Dessau Foundation Opening
Gerda Breuer, University of Wuppertal Werkbund, Good design etc.
Marcela Quijano, curator Ulm Ulm School of Design and Good Design
Miya Yoshida, curator Berlin Art and everyday culture of mobile phones
Saturday, 4.12.2010
10.30-13.00 Bad design - making the invisible visible
Annie Leonard, environmental critic Film: "The Story of Electronics"
Sarah Bormann, WEED Berlin Working conditions in electronics production
Evelyn Hagenah, Federal Environment Agency Dessau Sustainable products in the materials cycle
Claudia Sprinz, Greenpeace Vienna Consumer behaviour in the climate crisis
14.30-16.30 Discussion
Olaf Arndt, Artist and Curator Berlin
Freddie Geier, Software-Agency Würzburg (tbc)
Joachim Krausse, Anhalt University Dessau
Tim Pritlove, independent radio producer Berlin
Florian Rötzer, Telepolis München

Free entrance, German-English simultaneous.