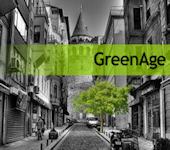 Green Age is so far the most important period that has witnessed a significant development in environmental consciousness. In this era of transformation, concerns over climate change, carbon emmissions and energy efficiency highlight the involvement of all stakeholders that play an essential role in ecological planning, architecture and design. The main focus of the symposium is to reduce the human footprint via design that minimizes pollution and consumption and to spread the ecological consciousness throughout the whole society.
In this regard, MSFAU Facult y of Architecture adopts an innovative mission in scientific, academic, technological and research fields by taking the responsability of further promotion and development of the topic.
The symposium that will be held on December 6,7,8, 2010 aims to raise consciousness by highlighting green ecological solutions in various scales; from built environment to natural environment, from society to individual. Therefore the new step is recognized as GREEN AGE.
Headlines
1. Green Cities
Global Warming and Climate Change
Carbon Emissions and Low Cabon Cities
Ecocities
EU Green City Policy
2. ENERGY EFFICIENCY AND CERTIFICATE SYSTEMS
Energy Efficiency and Standarts
Certificate Systems (Leed, Breeam, Casbee, etc.)
3. GREEN ARCHITECTURE
Ecological Architecture
Creative, Innovative and Visionary Cases
Green Architecture and Technology
4. VERNACULAR ARCHITECTURE
Vernacular Architecture
Natural and Cultural Heritage
5. GREEN DESIGN
Ecodesign
Green Technologies
Product Design Process, Development and Marketing
Reduce-Recycle-Reuse (3R)
6. GREEN RENAISSANCE
Eco Society, Responsibility and Empowerment
Public Private Partnerships (PPP) and (NGO)
SYMPOSIUM SCHEDULE
06.08.2010 Submission of paper / poster abstracts
15.08.2010 Announcement of accepted abstracts
30.09.2010 Submission of full papers/posters
15.10.2010 Announcement of accepted papers/posters

SYMPOSIUM LANGUAGE
Official languages of the symposium are Turkish and English.

SYMPOSIUM FEES
It is possible to participate in the symposium as a "participant" or an "audiance". Information on symposium fees are given belov. Symposium fee includes proceeding book, coffee breaks, welcome coctail, lunches, symposium banquet and symposium bag.

Until November 1 After November 1
Student 50 Euro 100 Euro
Diğer 100 Euro 150 Euro
Konuyla İlgili Linkler