Yarışma Sonuçları
Professional CategoryFirst Place:
Jacob M. Brostoff, Joshua G. Stein, Jaclyn Thomforde and Aaron Whelton
Second Place:
Fletcher Studio / David Fletcher. Team Members: Dylan Barlow, Ryan Chandler, Daniel Phillips, Tobi Adamolekun

Third Place:
Osborn Architects / Holly Chisholm, Kate Harvey, Armen Isagholi, Takeshi Kobayashi, Michael Pinto, Jared Sopko, Esmeralda Ward and Yuju Yeo
Student CategoryFirst Place:
Ryan Lovett, UC Berkeley
Second Place:
Alan Lu and Yan-ping Wang, UC Berkeley
Third Place:
Ben Abelman, Vivian Ngo and Julia Siedle, Columbia University
Honorable Mentions
Professional Category
Tom Beresford
NBBJ
RSA

Student Category
Tim Do, George Labeth and Randy Stogsdill, SCI-Arc
Roe Goodman, University of British Columbia
Minjeong Gweon, CAL Poly Pomona
Yarışma Bilgileri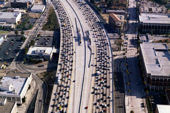 Image: Benny Chan
Fotoworks 2009
The passage in November 2008 of Measure R, a half cent sales tax in Los Angeles County, will provide as much as 40 billion Dollars for local transit-related projects over the next 30 years. Meanwhile, US President Barack Obama has pledged to make the largest investment since the 1950s in the country''s crumbling infrastructure.
The intent of this open ideas competition is to:
- Expand and improve the field of ideas for transportation design and transit-driven urban redevelopment projects within Los Angeles County.
- To broaden our thinking and discussions about the relationships between transit systems, public space and the built environment.

Eligibility
Any interested party may enter this competition. Entries may be submitted by individuals or teams. We strongly encourage cross-disciplinary team entries.
Competition Entry Specifications
Entries should work within the parameters of LA County Ballot Measure R, and should be tailored to the Measure''s guidelines.

Proposals should be developed to include both
1- Local Area Plan - 1 Board
Develop a specific site or neighborhood within a selected Regional Transportation Study zone (See Entry Background Documents). Revolving around a transit extension project, this may include any or all of the following: a transit station, a transit oriented development, a neighborhood redevelopment plan, an open space element, and connections to the rest of the city.
2- Transit System Scale Design and Planning Proposals - 1 Board
Illustrate a broader solution for a specific transit corridor or develop solutions for the entire City of LA''s transit systems and related urban planning. This study may include the planning and design of new transit lines, new transit technologies, connections between existing lines, connections to the rest of the city, links to highways, pedestrian and bicycle systems, or even broader, even untested, reformulations of the transit system.
Entry Fee
Student Entries: 25.00 Dollars (Please provide copy of Student ID)
Professional Entries: 50.00 Dollars
Cashier''s or Personal Checks should be made in US Dollars to The Southern California Institute of Architecture.
All Entry Fees are non-refundable.
Jury
Aspet Davidian, Director, Project Engineering Facilities, LA Metro
Neil Denari, Principal of Neil M. Denari Architects; Professor, UCLA
Cecilia V. Estolano, CEO of Community Redevelopment Agency of the
City of Los Angeles
Roland Genick, Urban Planner and Designer-Exposition Line
Gail Goldberg, Director, City of Los Angeles Department of Planning
Thom Mayne, Principal and Founder, Morphosis Architects ; Professor, UCLA
Eric Owen Moss, Director, SCI-Arc; Principal and Founder, Eric Owen Moss Architects
Other jurors to be announced
Questions
Forward all questions by 25 January 2009 to: [email protected]
A FAQ will be published on or before 25 January 2009
Competition Schedule
13 March 2009: Submission Deadline
21 March 2009: Public Announcement of Winners and Jury Discussion

Prizes to be announced.
Selected entries will be exhibited at SCI-Arc from 21 March to 28 March 2009.