Yarışma Sonuçları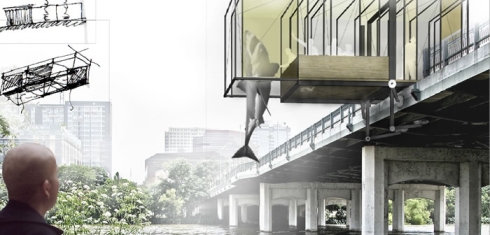 "Clip On Gallery", Juan Alfonso Galan of El Paso

First Place:
Juan Alfonso Galan of El Paso, Texas
Second Place:
Shinya Nakae of Yokohama, Japan
Third Place:
Rob Corser of Seattle, Washington
Yarışma Bilgileri

Art Alliance Austin is once again partnering with AIA-Austin and Austin Foundation for Architecture to solicit ideas for the Temporary Outdoor Gallery Space 2 (TOGS 2) competition in 2009. In 2009 the competition welcomes our new partner AIA New York Chapter. Last year''s inaugural TOGS competition yielded 269 registrations from over 20 countries. The winning project A Little Room from the design team of Amy Wynne and Mark Leveno from Los Angeles, California is expected to premiere to the public during Art Week Austin 2009.
The temporary architecture installations will unify the annual outdoor exhibit, provide prestigious gallery space for selected artists, and showcase emerging professional within the international architecture community. The TOGS will ultimately stretch the boundaries of work shown outdoors and will enhance the outdoor art fair experience by showcasing the synergy between art + architecture.
Phase I: Ideas Competition Requirements
1. Successful TOGS proposals will push the limits of creativity for exhibiting art. Within the confines of a 10''-0" x 10''-0" x 12''-0 and 10''-0" x 20''-0" x 12''-0 (adaptable) structure, the space provided will operate much like a gallery. Designers must keep in mind that the space is temporary and exposed to outdoor elements.
2. Design proposals must identify a temporary means of installation for the TOGS, provide illustrations for how the TOGS reinvent the outdoor exhibition space, and how various art mediums can be displayed. For the purposes of this competition, the context of the site or portion of the site is to be utilized. Ultimately, the TOGS could be installed in any location.
3. Designs are to illustrate proper accessibility for the public and prove flexibility with regard to the installation of various art mediums. Designs are encouraged to incorporate sustainable and environmentally friendly solutions.
Evaluation of designs will be based on the following criteria:
- Meets program requirements
- Shows innovation in design
- Integration of the TOGS into the site
- Flexibility in presenting various art mediums
Phase II: Build
While Phase I asks that entrants push the limits of the TOGS, all attempts will be made to produce a full-scale version of the TOGS in Phase II. The winner will be invited to collaborate with an architect to realize a working proposal. Local codes and restrictions will apply and the TOGS will need to meet any and all local laws where applicable. A budget for the TOGS will be established in Phase II and the feasibility of construction will be part of the final execution. The entrant may wish to consider these limitations that would be necessary for the execution of a full-scale prototype, but it is not required for Phase I of the competition.
Phase III: Exhibit
Phase III begins with the winning structure''s premiere at Art City Austin 2010 and an exhibition in New York City. Further securing additional exhibition locations, the TOGS 2 structure and winning boards will be available for exhibition in Austin and on the road.
Eligibility
Any architecture professional / student who has completed their education within 10 years of the competition announcement is eligible. Student applicants must be in their final year of an accredited architecture school or enrolled in an accredited architecture graduate program (B.Arch or M.Arch). Student applicants can also be in their final year of a 4 year architecture program, but the institution must have an accredited M. Arch program. A two-person architect team collaboration is allowed, with the condition that one member of the team must meet the above criteria. Limit of one entry per person or team.
Competition Schedule
Questions: 09 March 2009 (e-mail: [email protected])
On-line registration deadline: 23 March 2009 11:59 (Central Standard Time)
Upon completion of registration, you will receive your entrant registration number. Registration is required before material can be submitted.
Submission deadline: 06 April 2009
Entry Fee: 40 Dollars (No checks accepted - online registration only)
Submit boards to: TOGS 2 competition c/o AIA Austin 801 W. 12th Austin, TX USA 78701
Awards
Top 15 entries will be exhibited at various events through out Art Week Austin 2009 and at Art City Austin 2009.
1 Grand Prize winner will be awarded 1.000 Dollars. Every attempt will be made to building the winning design as part of Phase II during Art City Austin 2010. The winning design will be published in various art and architecture publications.
1 Second prizewinner will be chosen and awarded 500 Dollars.
1 Third prizewinner will be chosen and awarded 250 Dollars. These winners will also be exhibited during Art City Austin 2009.
All winners will be notified and announced on 22 April 2009.
The Jury will be solely responsible for the selection of the finalist. Submission will be assessed for their creativity, flexibility of design installation and how the entry pushes the limits of a gallery space in an outdoor environment. The decisions of the Jury are final and will not be subject to review. No appeals from entrants concerning the decision of the Jury will be permitted and no correspondence will be entered into.