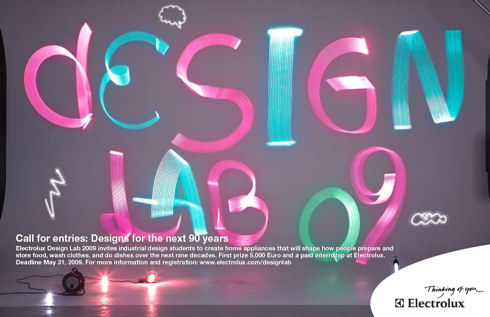 The global design competition is arranged by Electrolux. Participation is open to applicants from every country in the world who are registered undergraduate and graduate industrial design students. Registration is free and applicants must accept the competition conditions. By registering you accept the conditions below. Please observe-in particular- the conditions applicable to the intellectual property rights to the submitted competition entry (the "work").
The Theme for 2009: Designs for The Next 90 Years
The brief for the competition''s 7th edition is to create thoughtfully-designed home appliances that will shape how people prepare and store food, wash clothes, and do dishes over the next nine decades. The design ideas should address key consumer insights such as being adaptive to time and space, provide learning and allow for individualization.
Registration and Submission Deadline: 31 May 2009
Finals: 24 September 2009, London
Prizes
First Prize: 5.000 Euro and a six-month paid internship at one of the Electrolux global design centers
Second Prize: 3.000 Euro
Third Prize: 2.000 Euro

Awards and Acknowledgements
A jury will select 3 winning entries that will receive cash prize awards.
A selected number of students (students are persons who are officially registered as undergraduate or graduate-Bachelor''s or Master''s degree-students with a university at the time of submission of the design idea), will have their idea developed into a 1:1 full scale model of their design. The finalists will be invited to London, England for the finals and be available September 23 & 24, 2009 for this purpose. An exhibition of the finalists'' entries will be shown during a press event in London. Afterwards, the exhibition will travel around the world.
The Jury and The Design Criteria
The jury is composed of experts and industry leaders. The jury will award designs and concepts which best meet the judging criteria mentioned in the brief. Submissions should be the applicant''s own creation, shall not currently be in production and shall not previously have been published or exhibited.
Registration
Registration is open now, please fill in the form. The competition is an individual competition, meaning that group entries will not be accepted. Applicants are asked to submit only one solution. You can submit only one entry.
The Contents of The Submission
- One document with images and explanation in English of your concept including a brief description of the consumer insight (solution to consumer needs) that supports your work; pdf format only, max 2MB.
- The original high-resolution image(s) will be requested if your work is short listed
- If you win you will be asked to verify your attendance and your student credentials within 48 hrs of notification.