Yarışma Sonuçları
Winners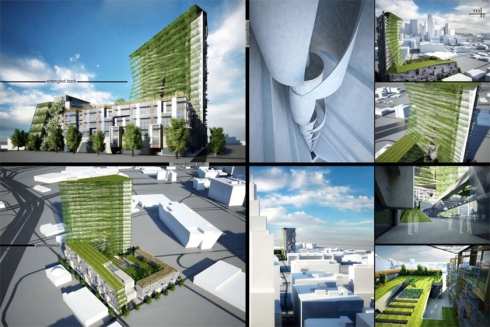 "Entangled Bank"
Firm:
Little, Charlotte, North Carolina
Team Members
Bradley Bartholomew
Ashley Spink
Stacy Franz
Kevin Franz
Kumar Karadi
Don Breemes
Coby Watts
Chad Lukenbaugh
Jason Bizzaro
Ryan Davis
Philippe Bouyer
Bo Sun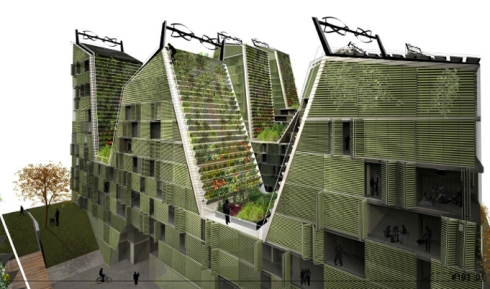 "Forwarding Dallas"
Firm:
Atelier Data & MOOV
Authors
António Louro (MOOV)
Filipe Vogt (Atelier Data)
Marta Frazão (Atelier Data)
Collaborators
André Almeida (Atelier Data)
Carolina Pombo (Atelier Data)
Inês Vicente (Atelier Data)
José Niza (MOOV)
João Calhau (MOOV)
Landscape architecture
Susana Rodrigues
Energy efficiency and resources
Maria João Rodrigues
João Parente
Concept communication
João Rato
Lisbon, Portugal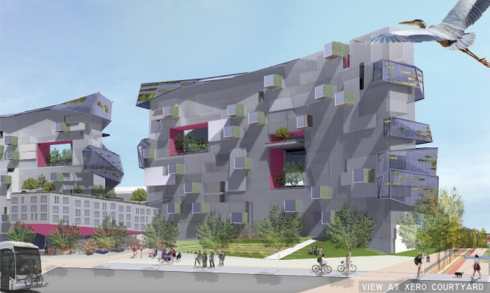 "Xero Project"
Firm: David Baker and Partners Architects and Fletcher Studio
Mark Hogan
Amit Price Patel
Ian Dunn
From Fletcher Studio:
David Fletcher
Sarah Donato
Rendering assistance from Mike Brown and Megan Morris of Medized.San Francisco, CA
Honorable Mentions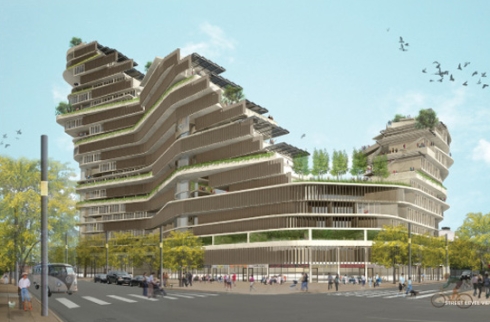 "CO-OP Canyon"
Firm: Standard LLP: architect, Los Angeles, CA
Jeff Allsbrook, partner
Silvia Kuhle, partner
Project Team
Alex Babich
Brandon Bown
Alexis Caver
Gregg Oelker
Kazu Shichishima
IBE Consulting
MEP, sustainable design
Peter Simmonds, senior associate
Patrick Wilkinson
Thornton Thomasetti: structure
Bruce Gibbons, principal
Christopher Kahanek
Coen Partners: landscape architect
Stephanie Grotta, principal
Erica Christianson
Bryan Kramer
Atelier 10: sustainable consultant
Claire Johnson
Davis Langdon: cost estimate
Ethan Burrows, associate principal
Jane Northey
Los Angeles, CA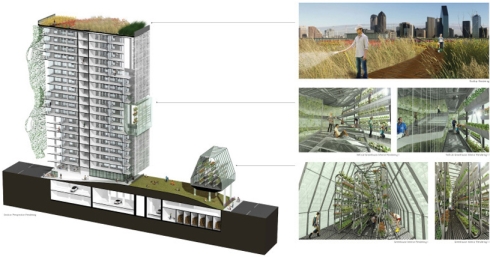 "Seeds for Integration"
Firm: Morris Architects Houston, TX
Team Members
Dallas Felder
Jonathan LaRocca
Paul Kweton
Shawn Lutz
Hidekazu Takahashi
Lysle Oliveros
Marsha Bowden
Christof Spieler
Doug Childers
Tim Murray
Douglas Oliver
Christine Braunger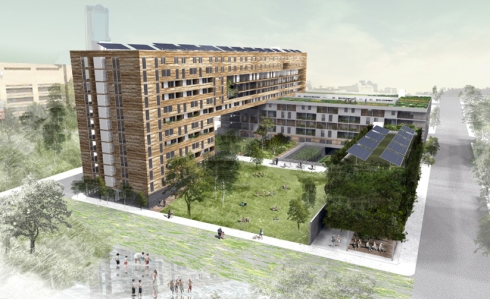 "Commonwealth"
Firm: PI.KL San Diego, CA
Team Members
Kuo Pao Lian
Pavlina Ilieva
Yarışma Bilgileri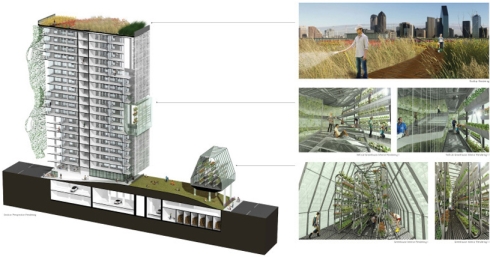 Re:Vision is a revolutionary initiative to create the prototype for an innovative, sustainable urban community. At the heart of the process is a series of contests generating visionary ideas for what can and should be in the design about urban space.
The City of Dallas and Urban Re:Vision present Re:Vision DALLAS in partnership with Central Dallas CDC and BC Workshop.
Eligibility
The competition is open to any person(s) including architects, designers, urban planners, engineers, artists, students and anyone interested in sharing their vision and ideas for a sustainable urban community.
What if everything we knew and believed about design needed to change?
What if we need to change along with it?
It''s a provocative idea, but one Re:Vision has been delving into for the past two years. Our series of competitions have searched for ideas and plans that can redefine urban space in a restorative way. We have focused on the city block because it is a microcosm of systems and relationships, and requires an integration and imagination that transcends beyond a single building.
Re:Vision Dallas is a chance to propel design beyond the typical, beyond the norm and to lay the foundation for a future of sustainable development we all hope is inevitable. It''s a chance to create a block that does no harm, to people or place. A chance to encourage and value relationships, while fostering respect for nature and our neighbors, privacy and resources, economy and consumption. It''s a chance to change how we live and connect, how we interact and collaborate-how we live in a space throughout our life and the lifecycle of the space.
This is more than something to aspire to. Re:Vision Dallas is real. The land is purchased. The Mayor of Dallas has granted his support. Thousands of hours have been devoted to setting up this competition. We''ve consulted experts like RMI. Led conceptual charettes with industry experts. Brainstormed with local officials on essential issues to consider. This block will happen.
How to Enter
Electronic registration forms will be posted on www.urbanrevision.com on January 26, 2009. Registration and submission deadlines for each competition are posted on our schedule. At the time of registration, each competitor must payment an entry fee in the amount of $50 (usd). Payments will be accepted either online with Visa, Mastercard and/or Discover cards and/or by check via mail. Once the fee is paid and the registration form filled out, each competitor will receive a confirmation email of their registration. The entrant will receive another email with their registration number that is to be used as the identifying mark on their entry boards. Only one submission per registration may be made. Digital entries will be uploaded no later than May 8th, 2009 11:59 PDT. (Detailed entry guidelines below)
Awards
The competition jury will award three finalist prizes, and three honorable mentions. The prize for each of the three finalists is 25.000 Dollars. The prize for each of the honorable mentions will be 1.000 Dollars. The top three finalists will receive a consultation with Central Dallas CDC. These initial discussions do not guarantee that the winners will be hired. All cash prizes will be awarded.
Jury
Cameron Sinclair
Eric Corey Freed
Peter Head
Pliny Fisk
Sergio Palleroni
Competition Schedule
Competition Launch: 26 January 2009
Registration Deadline: 15 April 2009
Entry Deadline: 08 May 2009 by 23:59
Jury Session: May 2009
Winning Designs Announced: 21 May 2009