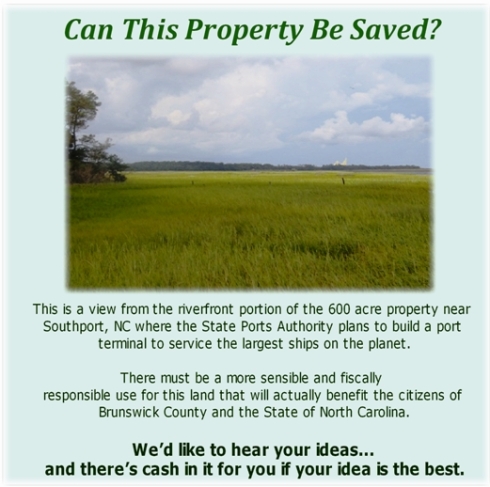 NO PORT Southport NC, Inc. is sponsoring a contest: Public Options Regarding Terminal Site, or P.O.R.T.S.
This contest is being presented to the public to allow everyone a voice in saying how 600 acres of pristine marshes, wetlands and woods located on the Cape Fear River can be used instead of an international container port.
NO PORT Southport NC, Inc. is a grassroots organization that formed in April 2008 with the sole purpose of stopping the proposed port at Southport. We are a non-profit 501(c)3 entity. Our Steering Committee consists of professionals with backgrounds in finance, law, marketing, engineering, transportation, banking, advertising, sales and business management. Included are academic and medical doctors and retired military officers.
After nearly a year of in-depth analysis on subjects relating to the proposed port, including environmental impacts, potential breaching of the aquifer, massive infrastructure requirements, probable decline in tourism and home values and detailed cost/benefit studies, we and other professionals concluded that this project is not a viable business venture. Since the land is under the stewardship of the state, a contest to develop alternative uses seemed appropriate.
This contest encourages creative minds to explore all possibilities for planning an alternative use of one of the largest remaining untouched coastal land areas left on the east coast. Entries will be independently judged. The winning entries will be presented to Governor Perdue.
Prizes
First Place: 500 Dollars
Second Place: 300 Dollars
Third Place: 100 Dollars

Submissions Deadline: 15 June 2009