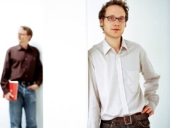 The Schindler Award is an architecture competition that challenges young architects to place "Access for All" at the center of their design philosophy. Open to students and schools of architecture in Europe, the Award recognizes urban designs that are characterized by inclusiveness and barrier-free mobility for people of all ages and capabilities. The competition is held under the patronage of the Schindler Group, and is an excellent opportunity for graduating architects to have their designs judged by a professional jury.
Philosophy
The Schindler Award has the goal of improving access and overall mobility for all city dwellers, irrespective of their age, status or physical capabilities. To that end, it challenges young architects to think beyond form, light and materials and to focus on the needs of the people who will eventually inhabit the structures and spaces that they design.

Schindler Award 2010
September 22, 2009 Opening of the competition. Students and schools can apply to compete for the Schindler Award 2010 by registering at:
www.schindleraward.com
April 30, 2010 Closing date for applications
July 30, 2010 Deadline for projects to be submitted
September 21 - 25, 2010 Judging of projects by an international jury of experts
At the beginning of 2011 Prizes awarded at the Schindler Award 2010 ceremony
A look backSchindler Award 2008The Site:
- Vienna, Austria
- Derelict area around a major city intersection (western belt and Vienna River Valley)
The Task:
- Transform the site into an attractive place of public activity (with a public common, a public
river park with outdoor sport facilities and a community center)
- Reposition the traffic infrastructure (attractive link for slow traffic)
- Include residential and business areas in overall design

Competition statistics:
- 957 applications
- 567 participants from 58 schools of architecture
- 17 countries
- 125 projects submitted

Schindler Award 2006
The Site:
- Paris, France
- Palais de Tokyo (opposite the Eiffel Tower) at the heart of the museum district
The Task:
Create a link across the Seine river, allowing disabled access to the Palais de Tokyo, which is
surrounded by stairs
- Integrate a visitor centre
- Create an exhibition concept for "Access to Art for All"
Competition statistics:
- 504 applications
- 274 participants from 58 schools of architecture
- 22 countries
- 88 projects submitted

Schindler Award 2004
The Site:
- Brussels, Belgium
- Vacant city block in the borough of St. Gilles

The Task:
- Create a public park
- Include a covered market and a community centre
- Integrate residential buildings
Competition statistics:
- 497 applications
- 252 participants from 34 schools of architecture
- 16 countries
- 78 projects submitted
Achievements
- Raised awareness of accessibility issues and the need of barrier-free architecture in urban environments among architecture students and tutors in Europe.
- Increased coverage about barrier-free architecture and mobility in European trade magazines.
- Deeper co-operation between schools of architecture, disability organizations and Schindler.