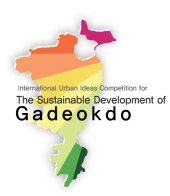 Competition Objective
The purpose of the competition is to establish a schematic design for developing the Gadeokdo region of Cheonga-Dong, Gangseo-Gu in Busan Metropolitan City as an international compound zone by obtaining the broad ideas of experts at home and abroad.
Project Site
The Location of the project site is the Gangseo-Gu region of Busan Metropolitan City, in the Republic of Korea.
Total area of the site of the competition is 22.518km
2
. (Including 1.39km
2
of Nulcha bay)
Development direction of Gadeokdo
Gadeokdo region, with its beautiful natural scenery, will be developed as a futuristic high quality maritime tourism city centering on tourism and leisure.

Gadeokdo''s Status level as a gateway city of Pan-Pacific North East Asian trade will be increased through the establishment of transportation infrastructure.

Integrated leisure and entertainment resorts will be introduced to attract foreign investment and tourism. This will be different from other tourism regions of Busan.

Complementary international business and exhibition facilities will be expanded to create added value of the new port region.

Permanent tourism will be facilitated through the Gadeok Great Bridge and the Geoga Great Bridge which connect Busan to Gadeokdo and Geojedo.

Residences will be introduced in the neighboring regions of Busan & Jinhae Free Economic Zone, the new harbor, Noksan National Industrial Complex etc.

New renewable energy will be introduced to attract tourism while aiming for energy saving urban development.

Resort facilities will be totally equipped with amenities such as sport and lodging, medical and entertainment facilities etc.