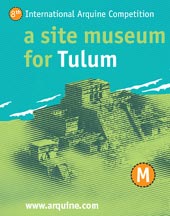 Once again, Arquine International Architecture and Design Magazine opens its annual competition to architects and students. The theme of the 8th International Arquine Competition is "A Site Museum for Tulum".
The competition has garnered wide recognition in Mexico and abroad over the past seven years. Of the 467 participants who enrolled last year, 56% were from Mexico, 21% were from the United States, while the remainder hailed from some 32 different countries.
Different urban and architectural themes are addressed each year in the competition: "A Pedestrian Border Crossing", "Re-Inhabiting the Center of Mexico City", "The Twenty-First-Century House", "Documentary Center of Modern Latin-American Architecture", and "The Park of the Senses", among others.
This year's competition deals with the theme of a site museum in an archeological area -Tulum- favouring contemporary languages capable of dialoguing with the landscape and the prehispanic legacy in a discreet way, and avoiding the example of less successful attempts in this field, whose desire for protagonism competes with the preexisting architecture.
The jury
Mario Schjetnan (landscape architect / Harvard University professor)
Mauricio Rocha (architect / Universidad Anáhuac professor)
Carlos Jiménez (architect / member of the Pritzker Prize jury)
Julio Valencia (architect / National Institute of Anthropology and History (INAH)
Archeologist / Anthropologist (INAH)
Prize
The competition's first prize is 4.100 Dolar