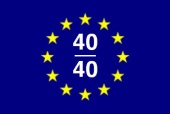 Europe 40 Under 40® is an annual awards program that celebrates the next new talented generation of European architects. The program is directed to support new and emerging design talent that will influence the near future of European architectural design, thinking, and theory with the direct consequence of impacting future environments and future European and international cities. The key is to bring wider recognition to 40 of the most promising emerging architects working in the European Union and other countries inside Europe, fostering and encouraging new talent and new creative thinking at the forefront of tomorrow''s profession.
ELIGIBILITY
Every year, architects under the age of 40 (as of December 1, 2010) are invited to submit projects (built or unbuilt) to be judged by a panel of distinguished architectural practitioners, developers, architectural journalists, educators, and critics. Participating architects under 40 can be either working as individual practitioners or collaborating inside an established firm as the principal lead designer of the projects submitted.
In addition to the 27 European Union member countries, architects from the following European nations are invited to participate: Norway, Switzerland, Russia, Turkey, Liechtenstein, Albania, Monaco, Andorra, Serbia, Montenegro, Georgia, Bosnia-Herzegovina, Macedonia, Moldavia, Belarus, Azerbaijan, Canary Islands, Faeroe Islands, San Marino, and Iceland.
Projects include corporate architecture, skyscrapers, institutional projects, religious buildings, civic and political structures, planning projects, urban renewal, restoration/renovation, residential architecture for single family and multi-family dwellings, stores, residential or commercial interiors, sports and transportation centers, and public environments.
Architects, Landscape Architects and Urban Planners can apply.
SUBMISSION REQUIREMENTS
The European Centre for Architecture Design Art and Urban Studies invites young architects to submit for Europe 40 Under 40 either on line at www.europeanarch.eu or by posting the submission.
Each applicant can submit between 1-3 projects for consideration.
For posted applications, attach the following on one CD-ROM (per project):
This completed application form.
One to three (1 to 3) photographs per project, site plans, floor plans, sections, and elevations, in 300 dpi JPEG format no larger than 4-6 MB.
One-page description per project.
Application fee of €200.
Cheques made payable to: The European Centre for Architecture, Art, Design and Urban Studies. Payment can be made by Mastercard/Visa/American Express or by bank wire transmission. Email for electronic payment details.
JURY CRITERIA
Projects are judged on the merit of design innovation with the emphasis of pushing the envelope beyond conventional methods and exploring new theories, ideas, and approaches to contemporary design. Additional criteria for evaluation includes the use of the latest building technologies, the investigation of new materials, the incorporation of energy conservation and environmental consciousness in design, a practical sensitivity to the environment and to urban and rural surroundings and conditions, and a forward-thinking respect for "green design" as mandated by the European Union.
The jury will select individual architects on the basis of submitted work and the potential of their impact on the future of the profession.
PROGRAM RESULTS
The results of Europe 40 Under 40 are announced in Summer 2011 and take the form of an exhibition opening in Europe and scheduled for travel. The exhibition is also presented in the United States by The Chicago Athenaeum. A catalogue accompanies the exhibition and documents the work of the 40 selected architects.