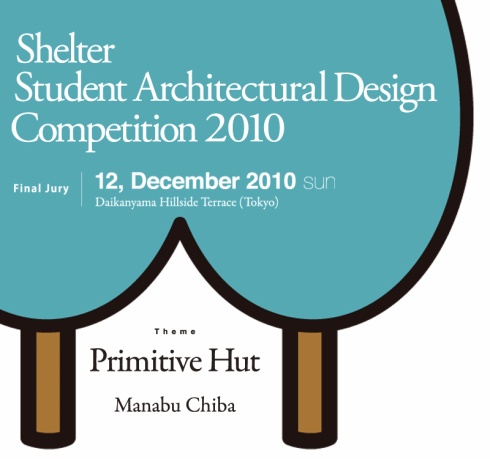 'Marc-Antoine Laugier''s 'Essay on Architecture'' was illustrated with an engraving of 'The Primitive Hut'' - from which it wassuggested that all architecture was descended.?Created with simple timber posts and beams, it was seen as the essence ofarchitecture.?The illustration clearly suggested a direction for architecture, without style or ornament.
However, when we look at the illustration today, the building seems slightly too formal to be called a 'primitive hut''.
I think this is because the social and cultural contexts of architecture in the 18 th century, when the drawing was made, were extremely different from our modern contexts, and also because people''s conception of what constitutes a 'primitive hut'' has changed with time. ?For this competition, please design a 'primitive hut'' for our contemporary age, in timber.
You must decide and clearly describe its location and use. You must consider where the 'hut'' should be ???n which place, in what kind of landscape or in what kind of city. ?And, you must consider what kind of space is 'primitive'' ??how it is used, and how your design evokes 'primitive'', in a modern sense, in people''s minds.?In this way, it should push the boundaries of today''s architecture.I look forward your exciting and creative entries.?

Prizes
First Prize (1 Award) \500,000 and Certificate of Merit
Second Prize (1 Award) \200,000 and Certificate of Merit
Third Prizes (3 Awards \50,000 each and Certificates of Merit

Commendations (Several awards) Certificates of Merit and prize gift

Eligibility of entry
1. International Entries are welcomed!
2. Applicants must be under-graduate or post-graduate students at universities or at tertiary institutions (as on of 12 December 2010).
Tertiary institutions include: junior colleges, colleges of technology, and other relevant vocational schools.
3. If selected, applicant must be available to participate in an open-presentation to be held in Tokyo on Sunday 12 December 2010.

Submissions
Print out the reply email that you receive from the competition office, and glue it to the back of your submission, in the bottom right-hand corner. Write your entry number on the right side of your submission, in the top right-hand corner.
→ Illustration which shows where to glue the email and where to write your entry number.
?One A2 sized sheet of paper ? 594mm×420mm), portrait or landscape. (Please do not mount on panel.)
?Explanatory texts should be included on the sheet, and can be in Japanese or English. The types of illustrations and the scale of drawings are to be decided by the entrants. Submitted work must be original, and must not have been published previously.

Judging procedure and announcement of results
A number of works will be selected at the Initial Jury, which will be held on 16 October 2010, and the results of this jury will be announced on this website. The authors of the selected works will be invited to present their works, either in Japanese or in English, at an open-jury in Tokyo on 12 December 2010 (Sunday). The Jury will decide the first, second and third prizes at the open-jury. The works will be published on The Shelter Corporation''s website and in architectural magazines.

Participants at the open-jury presentation must prepare one A1 sheet presentation board.

Participants at the open-jury presentation must prepare one A1 sheet presentation board.

All Submissions will not be returned, and become the property of Shelter Co., Ltd.

Shelter Co., Ltd. Reserves the right to reproduce, distribute, in part or in whole, any images or text included in the submission material.