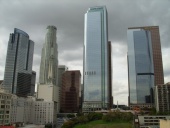 In light of the volatile nature of the current global economy, businesses in urban centers are trending towards sustainable policies and practices which they hope will enable them to work more efficiently. One key component leading to the achievement of this goal is the commitment to smart architectural design. "Architecture that Works" is the theme of 2011 Mock Firms International Skyscraper Challenge which seeks to focus student-design groups on issues involving improving the urban work environment through innovative uses of space, structure and sociology. The desired outcome is the creation of "hyper-vertical communities of commerce" which inspires in form and "works" in function for both internal and external people populations.
THE COMPETITION
Just in its 3rd year, the 2011 Mock Firms Architectural Competition is already highly regarded on the landscape of student-based design competitions. The Mock Firms model aims to help facilitate the formation and function of simulated architectural design firms by collegiate and secondary school students. This year''s goal is to conceive, coordinate, construct and even commercialize a commercial office building project for downtown Los Angeles which will be ultimately judged by industry professionals against a field of the peers in Chicago. Teams or "firms" can consist from between 2 - 4 partners (an additional one can be an instructor) Additional classmates are encouraged be involved in the overall process as skilled "employees."
Dynamic National Architecture, Lexington, South Carolina
Categories
Currently, Mock Firms consists of the following 3 (three) categories:
International Skyscraper Challenge (Graduate and Post-Graduate School)
National Skyscraper Challenge (High School)
Regional Home Design Challenge (High School)
The National Skyscraper Challenge brings together some of the brightest minds from high school architecture and engineering programs around the country assembling as student-firms to take on a given tall building project. Their reward is the opportunity to take part in face-to-face evaluations with some of the world''s leading design professionals. Additionally, these student-firms are positioned to assess the outcome of their ideas against the best of their academic peers worldwide. Finally, participants strive for excellence in the hopes of being designated the Top Mock Firm of the Year taking home a minimum $500 prize. Equivalent winning designations include but may not be limited to the following:
Honors/Awards
Top Marketing Firm
Top Firm Organization
Top Construction Firm
Top Engineering Firm
Top State Firm*
Top Overall Design Firm
*Contingent upon multiple entries from a state or school
NEW FOR 2011
All entries will be only judged against their adherence to the rules which if in compliance will be automatic qualifiers for the competition and final project presentations. Entries will not be subject to qualifying determination based on the amount or quality of other competing entries.

All participating firms on the secondary level will be focusing their design expertise on the same given site which will be Los Angeles, California.

Two new or adjusted award categories will be added. First, the Top Construction Firm will focus on the technical quality of the physical model. Second, we are honoring a Top Engineering Firm which seeks to more specifically recognize the CAD work and level of difficulty but buildabilty of your structure.

Non-attending firms will be able to submit additional physical material
TEACHERS - USE AS A CLASS DESIGN PROJECT
Understanding the challenges you face as a teacher in planning a curriculum which meets required objectives but also engages the disinterested as well as challenges the self-initiated, the mock firms model seeks to provide you with alternative instructional methods through competition. This is accomplished by utilizing a cooperative educational approach through involving the entire class (if desired) in an effort to take a building project from conception to construction. Although only 2-4 partners are pegged as the "principals" of the competing group, each additional classmate can participate as associates in employing their specific skills to bring the project to completion. Alternatively, multiple firms can be organized in one class or section to compete with each other. In addition to the benefit of availing yourself to this ready-made project assignment, your class can benefit from the measurement against the best among their peers around the country as well as the rare personal evaluation of their work from leaders in design profession. Let us know if we can assist you in tailoring an experience to meet your needs and objectives.
TARGET DATES AND VENUE
Our tentative date for the competition is May 6, 2011 on Chicago''s exciting and historic Michigan Avenue. Additionally, we are looking to continue at the Congress Plaza Hotel & Convention Center just steps from Millennium Park and Willis (Sears) Tower. The due date schedule is as follows:
Registration Forms are due with and are to be submitted together with competition fee
Early Registration - August 30 through September 30, 2010
Regular Registration - October 1, 2010 through January 15, 2011
Late Registration - January 16, 2011 through March 15, 2011
Concept Sketches - February 16, 2011
Video Presentations - April 2, 2011
Submission Deadline for Non-attendees - April 22, 2011
Project Presentation - Friday, May 6, 2011
PLAN FOR CHICAGO-STYLE FUN IN THE AMAZING ARCHITECTURE RACE!
Regular Architecture Race registration Deadline - Mar 7. 2011
Late Architecture Race Registration Period - March 8 Through April 30, 2011
Amazing Architecture Race - Saturday, May 7, 2011
REGISTERING
Schools and students looking to participant in the 2011 installment of the Mock Firms National Skyscraper Challenge only need to secure the following:
2-4 student participants

submit registration form by deadline

submit registration fee by deadline

submit a 1-3 page brief or summary of the proposal by deadline

submit 1-3 8 1/2" x 11"-sized conceptual sketches by deadline