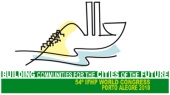 Porto Alegre is recognized worldwide for providing a platform for debates on global public policies and the possibilities for social action. The international student competition will be an opportunity to debate local issues of importance for both Porto Alegre and many other cities in all corners of the world.
The entries of the student competition should propose architectural, urban and landscape projects, aiming at the urban renewal of the area of Morro Santa Tereza, located in the southern part of the city.
The dialogue between undergraduate and post-graduate students from different places with different cultural backgrounds will promote the exchange and generation of knowledge, focusing on urban innovation, enforced by social inclusion, environmental protection and the qualification of public space.

Theme and Guidelines
The entries should reflect innovative ideas and the proposals should search for urban renewal of the project area of Morro Santa Tereza.
The dialogue between graduating and post graduating students from different places with different cultural backgrounds will promote the exchange and generation of knowledge related to the competition and to urban innovations worldwide. The challenge faces main issues of development, such as social inclusion, environmental excellence, integrative landscape architecture and urban quality.

Area of Intervention
The 87 hectares of Morro Santa Tereza area is located in the south of the city, at the fringe of the historic city center. The site for the International Student Competition was suggested by the Porto Alegre Municipality. The proposed area of intervention has great potential for changes in the now derelict urban environment, focusing on social relations and environmental sustainability.
Currently, it is occupied by a diversity of functions and building types, including media headquarters, social institutions of unattended children & pensioners, and a football sport complex.
It is an urban area of constant social tension, including a residential neighbourhood with mixed housing segments, from upper class to low-income housing and favelas, with and without land regularization.
The vicinity of Lake Gua?ba portrays the area, so as its hilly landscape, providing views to and from the city that are very characteristic and important for Porto Alegre, The area presents as a strategic point for innovative proposals addressing different urban dimensions at street, neighbourhood and city level.

Jury
The Jury will be coordinated by a professor of an outstanding international institution and members will be nominated from international, national and local partners.
Deadlines
01 October 2010 Deadline for Registration and Entries
13 October 2010 Announcement of the Finalists
20 October 2010 Announcement of the Prize Winners
15 November 2010 Results and Presentation of the Students Competition
November/December 2010 Exhibition of the Projects of the Finalists and Winner