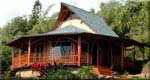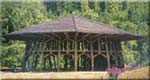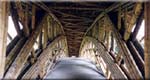 Competition Objectives: This competition has been created to develop new award winning designs for bamboo buildings, raise awareness of the use of certified structural bamboo for building code approved structures, and introduce architects, designers and builders to working with bamboo as a structural material.
Develop new award winning designs for bamboo houses and designs for many types of buildings and structures.
Raise awareness of the uses of certified structural bamboo for building code approved structures.
Introduce architects, designers, builders and planners to working with bamboo as a structural material.
Promote a shared vision to create an environmentally sustainable housing alternative in the building industry.
Nuture an emerging industry developing sustainable building products and crafts from bamboo.
Promote preservation and restoration of native and natural forests of the world by replacing wood with bamboo products.
Promote bamboo propagation, harvesting, manufacturing and building in an ecologically safe manner for the ecosystems and the people of the world.
Building Design Categories: There are design categories for different types of bamboo buildings, and winners will be chosen in each design category.
Choose your submission from one of these building categories:
Family Houses (moderate priced family dwellings)
Custom Houses (high end specialty)
Affordable Housing (lower cost)
Hybrid Houses and Buildings using other green building materials
Tree Houses and Pole Houses
Resort Houses (beach, mountain, lake)
Temporary, Portable and Emergency Relief Structures
Urban Buildings (Residential, Commercial, mixed use, penthouse)
Commercial and Public Buildings
Pavilions, Conference Centers, Roof Structures (for gatherings)
Park and Garden Structures

Buildings can be designed for any of these geographical areas:

North East and Atlantic Coast
South and Gulf Coast
Mid West Heartland
Western States
Pacific Coast
South West
Hawaii and Pacific Islands
Canada and Alaska
Mexico and Caribbean
Central and South America, Caribbean
Northern Europe, Mediterranean
North Africa, Middle East
Equatorial and South Africa
Russia, Central Asia
South Asia
Southeast Asia
China, Japan, Korea
Oceania, Pacific Islands

Sponsors, Partners and Affiliated Organizations: Bamboo Technologies, currently manufacturing 20 models of certified building code approved bamboo houses, is looking for new award winning designs, and has the capacity to manufacture new designs at its bamboo building factory.

Bamboo Technologies, Maui, HI.
The first company to offer engineered, manufactured, building code approved bamboo homes in the USA, and the leader in the international certification of bamboo as a building material. BT envisions the preservation and restoration of natural forests of the world by replacing wood with bamboo products. BT is committed to providing strong, long lasting, aesthetic and cost-effective bamboo for construction. BT promotes bamboo propagation, harvesting, manufacturing and building in an ecologically safe manner for ecosystems and people of the world.

Bamboo Hardwoods Vietnam, Ltd.
The world''s first factory producing code approved bamboo houses with certified structural bamboo, located north of HoChiMinh City, Vietnam.

International Network for Bamboo and Rattan (INBAR)
An international organization established by treaty in November 1997, dedicated to improving the social, economic, and environmental benefits of bamboo and rattan. INBAR connects a global network of partners from the government, private, and not-for-profit sectors in over 50 countries to define and implement a global agenda for sustainable development through bamboo and rattan. Headquarters in Beijing, China.

Bamboo Hardwoods, Seattle WA.
Specialists in bamboo flooring, furniture, fences and building materials. Bamboo Hardwoods produces the most innovative bamboo products found in the world today.

International Bamboo Foundation (IBF), Paia HI.
The IBF a, 501(c)3 and the Environmental Bamboo Foundation of Indonesia were both founded by Linda Garland, an international designer and environmentalist.

Bart Trudeau, Trudeau Architects, Latham, NY.
Architectural Support Services for Institutional Facilities. We focus on understanding the complete life cycle of building facilities for long term building owners and managers.

More Partners and Affiliates To Be Announced.

Registration: Open to architects, builders, designers, students anywhere in the world. Registration deadline is December 31, 2006.
http://www.bamboocompetition.com/registrationba.php

Schedule: Submissions by January 15, 2007.
January 23, 2006
Competition First Announcement

December 31, 2006
Competition Registration Due

January 15, 2007
Competition Submissions Due

January 2007
Website Exhibit of Submissions

February 2007
Jury Review of Submission

March 15, 2007
Announcement of Finalists

April 01, 2007
Announcement of Award Winners

April 2007
Awards Receptions and Events

Submissions: Entries are electronic files submitted by ftp or email.
General Design Considerations
• Design using certified structural bamboo poles (3" dia. bambusa stenostachya).
• Design can be effectively converted into CAD shop drawings for construction.
• Design represents affordable, relevant, liveable, stylish housing.

Submission Schedule
• Registration Deadline is December 31, 2006. All contestants must register.
• Submission Deadline is January 15, 2006.

Entry Fee Schedule
• $100 for companies, architects, professions, designers, builders.
• $50 for students.
• $25 for students from developing world countries.

Submission Requirements
• Format size is 24"x36" pdf (ARCHD).
• Indicate building category for your competition entry.
• Include description, plans, sections, elevations, 3-D views.
• 250 word description of and philosophy inspiring the design project.
• Complete contact information including email for communication.
• Options: exploded axonometric views, materials, research, parti.

Conditions. Competitors agree to the following rules and regulations:
• Bamboo Competition is granted the rights to reproduce and print design entries.
• Designers name credit will be given on any reproduced or published work.
• Bamboo Competition has no responsibility to return submitted materials.
• By submission of design entries, competitors agree to these conditions

Submissions sent by
• Electronic files sent to FTP site: ftp address to be announced.
• Email files to [email protected]

Acknowledgement of Submission
• Email confirmation will be sent to your email address.

Questions about the competition
• Email questions to [email protected]

Bamboo Building and Design Research
• See our list of bamboo building and design books for reference works.

Jury: Juries of experts and notable people are being selected for relevant categories. Events will be planned and announced for winners in January 2007.
Jurors may evaluate submissions in one or more building design categories.

David E. Sands, AIA, Bamboo Technologies
Architect of bamboo houses. Partner and Founder of EcoArchitecture. A licensed architect in Hawaii and V.P. of the International Bamboo Foundation. Former president of the American Institute of Architects, Maui Chapter, and member of the Int''l Building Committee for INBAR.

David Greenberg, Treehouses of Hawaii
Architectural and Urban Designer, Founder of Treehouses of Hawaii. Created 2001 Int''l Treehouse Competition, which received over 1000 entries from around the world. 100 winners are in his 2006 book "Treehouses in Paradise: Fantasy Designs for 21st-Century Globe-Trekking Nomads".

Simon Velez, Bamboo Architect
Well known architect of traditional Colombian structural designs, ecological processes and avant-garde technology. Prominently featured is Velez'' ZERI pavilion at Expo 2000 in Hanover, Germany. Author of "Grow Your Own House", featured in "New Bamboo" by Marcelo Villegas.

Linda Garland, Panchoran Retreat
An international designer and environmentalist who has made her home in Indonesia for over 20 years, a bamboo retreat center in Ubud, Bali. She founded the International Bamboo Foundation and the Environmental Bamboo Foundation.

Shyam K. Paudel, INBAR
Program Officer for the International Network for Bamboo and Rattan (INBAR) in Beijing China, Developing rural livelihoods, environments and businesses worldwide through bamboo and rattan and promoting housing and sustainable development.

Dean Johnston m.arch, Johnston•Cassel
Principal at Johnston.Cassel of Maui. See his "Creating a Culture of Bamboo" Powerpoint Presentation. With University of Hawaii at Manoa, School of Architecture, Dean pioneered research on the testing of structural bamboo.

Joerg Stamm, Eco Bamboo
Internationally recognized designer and master builder of large bamboo structures, buildings and bridges using guadua structural bamboo. His EcoBamboo production company is located in Candelaria, Colombia.

Bart Trudeau, Trudeau Architects
Trudeau Architects, Latham N.Y., specializing in Architectural Support Services for Institutional Facilities. Chair of the 2006 AIA Codes and Standards Committee.

Jennifer Siegal, Office of Mobile Design
Founder and principal of the Los Angeles-based firm Office of Mobile Design (OMD), which focuses on designing "portable, demountable, and relocatable structures." Many projects are featured in "Mobile: The Art of Portable Architecture."

Howard Davis, University of Oregon
Professor of Architecture. Specialist in vernacular architecture, low-cost housing and community design, with projects and research in India, Thailand, Japan. Projects include houses and mixed-use urban buildings. Author of The Culture of Building and co-author of The Production of Houses.

More Jurors To Be Announced

Awards: Competition is designed for winners in many categories.

• Winning designs may be built by Bamboo Technologies, with royalties to designer.

• Overall First Prize $5,000. Second Prize $3,000. Third Prize $2,000.

• First Prizes in each building category to be announced.

• Finalists are announced on the competition website and can vote on best designs.

• Winning designs will be announced in international publications and media.

• Free stay in a bamboo resort house in Maui, Hawaii.

• Finalists may be included in upcoming book on bamboo buildings.

(See new Treehouses in Paradise Design Competition Book as example).

• Winners in each building category receive free INBAR affiliate memberships.