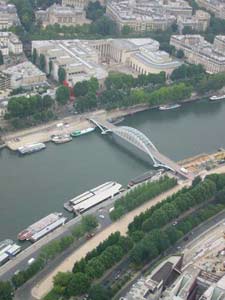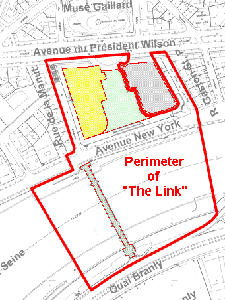 Introduction
Removing Barriers to Culture

Paris – city of culture and fashion – boasts innumerable museums and exhibitions well worth your visit. Adding just another one, you might say, is an undue luxury. Not quite so! At least not for those who cannot visit too many of these heavens of culture, because they are inaccessible to them.

To facilitate Access for All to some of the many museums in the very heart of Paris presents a great challenge. Even though these museums are grouped close together at the foot of the Eiffel Tower, the height difference between the southern bank of the Seine river an the bluff on the northern bank, the heavy traffic on the expressway avenue de New York and the steps leading up to the Passerelle Debilly make an easy stroll from the southern part to the northern part of the area almost impossible for people with disabilities.

This is the challenge to be accepted and solved by the competitors in the Schindler Award for Architecture 2005/06.

Application
The application period for the 2. Schindler Award for Architecture "Access for All" is now open. Please note:

This conceptual competition is open to all students in their two last years of study at a European university or college of architecture. Each application has to be backed by your professor. To see all application conditions, please check the Competition Rules.

You may apply as individual or as project teams made up of not more than three students, by filling out the online application. A confirmation will be returned to you or to your class representative, assistant teacher or professor within seven days.

Each entering student receives an official entry number as confirmation of having been accepted to the competition. This entry number must hence be mentioned in all further communication with the competition management.

The whole documentation of the Schindler Award including a DVD with all relevant working materials will be sent to the professors / classes after September 20th, 2005.

To fill in the registration form, please, click here.

The deadline for the application is March, 31, 2006.

Please, check this website on a regular basis. News about the Schindler Award and questions and answers of participants will be published regularly.

All questions concerning the organization of the competition, or questions regarding the program, must be sent to the e-mail address [email protected]

Schedule
Details about the 2. Schindler Award for Architecture "Access for All" will be published on this website according to the below-mentioned schedule.

Mid of August 2005
Details about the competition task will be released.

September 2005
Opening of the Competition. Students and schools can apply for the Schindler Award "Access for all" 2005/06, the European Architectural Competition.

March 31, 2006
Application deadline

July 14, 2006
Submission of projects

September 2006
Jury Process
.
November 10, 2006
Award Ceremony at the Kultur- und Kongresszentrum (KKL) in Lucerne, Switzerland

A Conceptual Competition for European Schools of Architecture
Under the sponsorship of Schindler, the Elevator and Escalator Company

Dear Students,

The Schindler Award 2003/04 proved to be a big success. This success, in addition to the receipt of many letters of acknowledgement from participants and friends, have encouraged Schindler to continue their initiative and organize a competition every second year. "Removing Barriers to Culture" will be the motto of the Second Schindler Award, taking place in 2005/06.

Due to their reduced mobility, the overall independent action sphere of people with disabilities is often reduced to the immediate surroundings of their residence. Whereas unimpaired people can easily move to places of their own accord and choosing, a handicapped person often has to rely exclusively on the attractions already available within the short range of their mobility. In order to enlarge their overall activity range, much higher requirements of accessibility over and above that which is currently provided, should thus be met by public spaces and public facilities, such as museums, schools, etc. Catering to daily needs, giving access to outdoor activities, offering diversified experiences of space, and conveying a feeling of security are all important aspects of the envisaged project.

The Schindler Award for Architecture "Access for All" is both a competition between individual students and a competition between their schools. It is aimed at students in their last two years of study at major European schools of architecture. Selection criteria are the architectural characteristics of the submitted projects and their integration into the environment. Special attention is being paid to accessibility.

Students, we are looking forward to see your projects and are counting on you for surprising and constructive proposals!

Wishing you all the best

"Architecture that invites people with disabilities"
Interview with Prof. Thomas Sieverts, Chairman of the Jury, regarding his expectations

Prof. Sieverts, there are hundreds of architectural competitions for students in Europe. What is special about the Schindler Award for Architecture "Access for All"?

What makes the Schindler Award for Architecture "Access for All" special is the nature of the task: The question of an urban structure and urban architecture which is equally easily accessible to everyone living there – handicapped and non-handicapped alike – and which does not differentiate between them, has never before been posed to European architecture students.

Something else which is special about the competition is that it is also a competition between the various schools of architecture which represent themselves through their best students who are selected in the schools'' own internal competitions.

The issue of accessibility for people with disabilities hasn''t been a major topic in architecture until quite recently. Why has it become such an issue?

It is very pleasing that almost 50 schools of architecture from almost every European country, including those of Eastern Europe, have expressed interest in this humane question. This demonstrates that after a time which has been devoted mainly to inventing new and original forms of architecture and technical refinements, the focus at architectural schools is returning to questions of human qualities, and how urban design and architecture can contribute to making life easier and more enjoyable.

What is the special nature of architecture designed for people with disabilities?

It is not only a question of an urban architecture which no longer builds barriers between people with different capabilities, but of one which specifically invites those people to participate in public life who today are excluded from it in varying degrees because of their disabilities.

What are your expectations as Chairman of the Jury regarding the work of the students?

I look forward to new and innovative proposals for ''inviting, open-minded public spaces'', as the American social philosopher Michael Walzer once put it.

Having been a university teacher for so long I shall be particularly interested to see how teachers of architecture throughout Europe are currently grappling with this important task. The competition can be expected to exert a positive influence which extends beyond the confines of architecture schools to affect practical aspects of urban planning and architecture.

Prof. Sieverts, thank you for this interview.