Yarışma Sonuçları
| | | |
| --- | --- | --- |
| "la dolce vita" | "vacuum cleaner 500" | "fiat 500 drivin cinema" |

1st prize in the accessories category
"la dolce vita" - design by: nils kajander from finland
1st prize in the lifestyle category
"vacuum cleaner 500" - design by: evgeny onutchin from israel
1st prize in the everywhere category

"fiat 500 drivin cinema" - design by: tim thornton from uk
Yarışma Bilgileri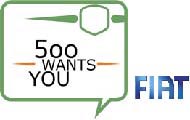 Designboom and FIAT international design competition.Participation is open to applicants from every country in the world, to professionals, students, and design-enthusiasts. Free registration required.

They want our ideas to help them build the new icon of italian motoring.Participants are requested to submit their designs and concepts for one or more of these three categories:

- 500 Accessories
How do you imagine the car accessories and personalization of the new FIAT 500 car ?
- 500 Lifestyle
How do you imagine the FIAT 500 car style? translate the syle into everyday life (objects, furniture, gadgets, dress, etc.)
- 500 Everywhere
How do you imagine the world of the new FIAT 500 car? design a FIAT 500 world (places, streets, parking aeras, shop, pub, etc.)

Awards
For each category there will be a prize of 5.000 Euro.
- 3 first prizes : 5.000 Euro each.

The winning entries and a selection of the shortlisted works sent in will be shown in april 2007 at the salone del mobile, Milan, İtaly.

FIAT undertakes, in the event that it uses for production one of the designs submitted for the contest (wholly or in part), to pay a one-off fee to the designer of Euro 3,000.This does not apply to the 3 winners, their fee is the prize as written above.

Jury
Giorgio Armani, fashion designer
Luca Cordero Di Montezemolo, FIAT president
Jasper Morrison, industrial designer
Gabriele Salvatores, film director
Luca Trazzi, designboom

Design Criteria
-Don''t send in vague concepts, but go a step further.
-As FIAT wishes to produce some of the most interesting projects, please consider the feasibility of manufacturing.
-Your designs should encorporate the spirit of the FIAT 500 - people-centric - cult - simplicity - fun - and of course smiling.
-Projects should not be currently in production.

Registration Deadline
Application registration will be accepted through 05 September 2006.