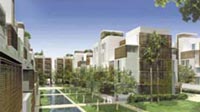 MIPIM, the international property market, attracts over 23 000 delegates to Cannes every March. The MIPIM awards are divided into two branches: the long-running MIPIM Awards for completed projects, and the MIPIM Architectural Review Future Project Awards for unbuilt work. The Awards are in eight categories: offices; retail and leisure; masterplanned communities; big urban projects; residential; tall buildings; innovation and local revitalisation.
There will also be a Best of Show Award. Winning entries will be presented at an awards dinner in Cannes. All submissions will be exhibited at MIPIM and will be published in a catalogue to be given to all delegates.
Jury
A panel chaired by Paul Finch, Editor of The Architectural Review.
The President of the MIPIM Awards, Peter Cole, will be an honorary jury member.
Eligibility

Developers, funders, architects, contractors and others who can demonstrate involvement in the submission. In the event of the scheme being selected for a platform review at MIPIM, the designer, developer, owner or funding source will be invited.
What can be entered?
Entries to the MIPIM Architectural Review Future Project Awards and Catalogue should comprise projects on the drawing board, or under construction, illustrated in their context. Projects may be entered in more than one category. An entry fee is payable for each category entered.
Categories

-Big urban projects
-Regeneration and masterplanning
-Tall buildings
-Mixed use
-Offices
-Residential
-Retail and leisure
Entry fees

The entry fee for each project entered is 500 Euro, 330 Euro, 575 USD made payable to The Architectural Review.
Entry forms
Each submission must have a separate entry form and CD. All entrants must be named in the submission. Please copy the entry form where necessary.
Entry deadline
Deadline for receipt of entries is 27 November 2006. Judging will take place in December, and Award winners will be notified by e - mail by 15 December 2006.
Delivery
Entries should be properly packaged and clearly marked 'AR MIPIM' on the outside. They should be sent to: The Architectural Review, 151 Rosebery Avenue, London EC1R 4GB, United Kingdom. Please ensure entries arrive by the closing date. Entries posted on the closing date will be accepted but must be received before 1 December 2006. Personal deliveries to the AR editorial offices are accepted during normal working hours.
Documentation
Your entry must be marked as NCV (no commercial value) on any courier documentation. The Architectural Review will not accept any courier charges or taxes resulting from delivery.
Return of entries
Entries will not be returned. The MIPIM Architectural Review Future Project Awards assumes no liability for loss or damage to entries.