Yarışma Sonuçları
First Prize
Zhang Fan, Lu Xiangning, Su Hang (PR China)
Second Prize
Thijs van Bijsterfeld, Nikoline Dyrup Carlsen (The Netherlands)
Third Prize
Xu Wei, Li Juan (PR China)
Honorable Mentions
- Raymond Chu Wing Hin, Michael Chan Sheung Wai (PR China (Hong Kong)
- Victor Njo, Willem Wolters (The Netherlands)
- Shi Yan, Zhang Fan (PR China)
Yarışma Bilgileri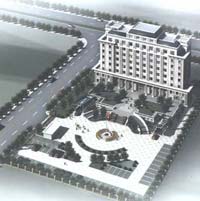 As Chinese cities change, public space is being redefined. The segregation of the urban population, the explosion of urban areas, the rapid increase in building height and floor area, the introduction of massive individual transport and awards forms of virtual communication and socialization all distort existing spaces. What used to be vibrant street space is now becoming vast areas populated only by a awards street class of security guards, taxi drivers, traffic police and migrant workers, while at the same time formerly pure commercial spaces take over public functions. Other public activities shift to virtual spaces and are no longer embedded in the footprint of the city. In the same time, city development outside the large metropolises too often denies any spatial context or community qualities, drawing its set of rules solely from the market of detached floor plans and their relation to the rays of the sun. Sinocity, a fictitious city in an imaginary Chinese province, reflects more reality of mid-sized Chinese cities than many will admit. The Sinocities Awards seeks to explore awards ways of dealing with this status quo of the near future.
After the 2005 FAR8 competition on urban density, FAR Architecture Center Shanghai now holds its second competition, the Sinocities Awards, an International Architecture Design Competition on awards Public Space. This open idea competition without realization objective will run from April to August 2007. Designers and students from all over the world can freely choose a site on the Sinocity map and apply their innovative designs. A jury of architects and planners will choose the award winner, and all projects will be exhibited in Shanghai in August 2007.
The Competition is a single - stage, open, anonymous idea competition without realization objective.
All interested architects and related professionals such as urban planners as well as students of architecture, urban planning and related fields may enter.
Examples
Just to make the task more understood, we give you some very simple examples of solutions.
You could...
- invent a new green connection system
- define an innovative program for awards public facilities
- introduce community space within high rise buildings
- come up with a long-term destruction plan for bad housing
Awards

Total award sum 35.000 RMB
First prize 25.000 RMB
Two second prizes 5.000 RMB
One first prize winner will be invited to the award ceremony in Shanghai, China, including a travel expense allowance to be determined by FAR.
Fee
The registration fee is 40 Euros or 400 RMB
For students in mainland China 200 RMB
Submission
Plan A
Any kind of graphic and written representation of the design, such as scanned hand drawings, computer renderings, plans, conceptual drawings, text. This plan must be readable completely without PLAN B. Mark the scale on all plans. Mark the registration number clearly on the plan. Plan language is English.
Plan B
A plan of Sinocity in the scale 1:2000. Mark the location and extent of your design. This plan must be handed in along with PLAN A but will be used for exhibition purposes only. Mark the registration number clearly on the plan. Plan language is English.
Jury
James Brearley (BAU International)
Xiaocun Zhu (Tongji University)
Paul Chen (HPA Haipo Architects)
Defne Ayas (New York University)
Su Yunsheng (Urban China Magazine)
Two more jury members will be announced.