Yarışma Sonuçları
Business Centres
Council of Europe, New General Office Building (Strasbourg, France)
Architect:
Art & Build Architect
Local Architect:
Denu & Paradon
Developer:
Council of Europe Council of Europe - New General Office Building (Strasbourg, France)
Refurbished Office Buildings

Unilever House (London, UK)
Architect:
Kohn Pedersen Fox
Developer:
Stanhope plc
Engineers:
Arup Unilever House (London, UK)
Residential Developments
Chimney Pot Park (Salford, UK)
Architect:
Shedkm
Developer:
Urban Splash Chimney Pot Park (Salford, UK)
Hotels & Tourism Resorts
Projekt Hotel Wasserturm, Hamburg Sternschanze (Hamburg, Germany)
Architect:
Falk von Tettenborn
Developers:
PATRIZIA Projektentwicklung GmbH and Ernest Jo. Storr
Interior Designer:
Cornelia Markus-Diedenhofen
Operator:
Mövenpick Hotels & Resorts Projekt Hotel Wassertum – Hamburg Sternschanze (Hamburg, Germany)
Green Buildings & Special Jury Award
Crane Track (Amsterdam, The Netherlands)
Architect:
Design Group Trude Hooykaas (OTH)
Developer:
ING Real Estate Development
Yarışma Bilgileri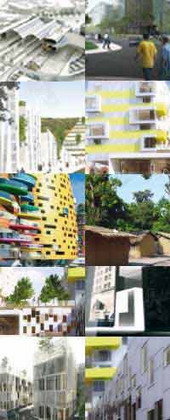 The MIPIM Architectural Review Future Project Awards are for unbuilt work, in eight categories: offices; retail and leisure; regeneration and masterplanning; mixed-use; big urban projects; residential; tall buildings and sustainability. There will also be a Best of Show award.
Winning entries will be presented at an awards dinner in Cannes. All submissions will be published in a catalogue to be given to all delegates.
Closing date for entries to the MIPIM Architectural Review Future Project Awards is
26 November 2007
.
Categories
Big urban projects
Judges will be looking for entries that have successfully demonstrated that they can make a major contribution to the regeneration of towns and cities. In particular the proposed development should respect the quality of the built environment in the wider community as well as the strategic issues of social responsibility, transport and sustainability.
Regeneration and masterplanning
Entries in this category will be large-scale, predominantly residential, vibrant sustainable urban communities where generations to come will choose to live, work and play. Judges will be looking for evidence of applying an inclusive approach to meeting all stakeholders' aspirations to deliver socially, environmentally and economically successful regeneration.
Tall buildings
This category covers tall buildings of all kinds. Projects entered in the category should be examples of the way in which such buildings can contribute to the public realm at street level and, where relevant, create new public places.
Mixed use
This category celebrates integrated development comprising a variety of uses (it is not aimed at projects with one overwhelming, plus a tiny additional use, which should be entered in its appropriate category). Increasingly, mixed-use development has become a requirement at the heart of inner urban as well as stand-alone projects. Judges will be seeking evidence of how the designers have synthesised the different needs of varied building types, and how individual elements can benefit the development as a whole.
Offices
Offices may be purpose commissioned or speculative. Judges will be interested in the contribution the project makes to its context in terms of urban design and its human qualities, as well as the attributes of the building, particularly in enhancing workplace productivity.
Residential
This category concerns groups of houses and/or apartment developments. Urban design and site planning will be important considerations for the judges, as well as creative and innovative solutions and the human qualities of individual dwelling-types and groups.
Retail and leisure

This award will go to the project that best responds to both its urban context and the needs and aspirations of its target customers. For customers in retail and leisure developments, the interior experience will be a key factor in the potential success of a development, which will in its turn have to respond creatively to the challenges of today's urban agenda with its emphasis on mixed-use, sustainability and connectivity within the urban fabric. A winning entry will demonstrate outstanding creativity in all these areas.
Sustainability
The sustainability award is one for which all entries will be considered eligible. Judges will be looking for an integrated approach to design, construction, materials and technology, and a considered approach to how the building will be used long-term.
Eligibility

Developers, funders, architects, contractors and others who can demonstrate involvement in the submission.